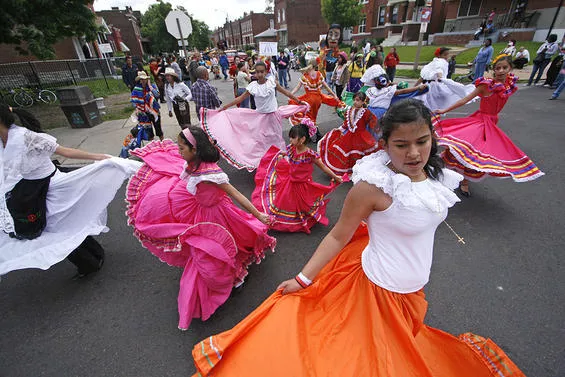 Nick Schnelle
A photo from last year's Cherokee Street Cinco de Mayo parade
St. Louisans definitely love to drink, and this week, we'll trade in our cans of PBR for pitchers of margaritas! That's right, it's time for Cinco de Mayo in St. Louis. While arguably the city's biggest party, Cherokee Street's holding off on the big festivities until Saturday. Here's Gut Check's picks for the biggest parties taking place this May 5th.
Hacienda Hacienda will host a shoot for the Travel Channel on its patio from 6-8 p.m. There will be live music from the Fontanelles from Noon-4 p.m., and Fresh Heir will play from 6:30-10 p.m. Two flair bartenders brought in from Chicago will prepare drinks and entertain. Hacienda's web site and Facebook page will have details on parking, which will be updated throughout the day, and there will be complimentary shuttle services to help with parking as well. Festivities begin at 10 a.m.
Milagro Modern Mexican Half the parking lot will be closed off for an outdoor party. There will be two outdoor bars, two outdoor food service counters and music courtesy of DJ Alejan.
Amigo Joe's A street party complete with t shirt and hat giveaways and drink specials. Boogie Child will perform from 6-10 p.m.
Senor Pique Z107.7 will be broadcasting live from 7-9 p.m., and there will be live music from Vote for Pedro from 5-10 p.m. The Corona and Cazadores Girls will also be there.
Amigos Cantina From 6-10 p.m., Amigos Cantina will host an outdoor party, complete with salsa dancing, drink specials and a raffle. Chuy Arzola's An outdoor party with DJs from 3-7 p.m., live music courtesy of Rampage Rox from 7-10 p.m., shot girls, drink specials and $5 food specials all day long.
El Borracho El Borracho will be shutting off two city blocks at Locust and 20th for its enormous street party which will inlude donkey rides, luchador wrestling, a PBR dunk tank, drink specials all night long, a photo booth, a VIP area in Pepper Lounge, a volleyball court in the park across the street and tequila booths. For $25, guests can purchase a VIP pass which gives them bottomless margaritas, Coronas and Modelos from 3-7 p.m.
Rosalita's Cantina Rosalita's Cantina will be closing down Washington Avenue between Tucker and 13th St. There will be a large tent party with tables and an outdoor bar, live music from 1 p.m.-1 a.m. by Los Dukes, El Mariachi, Compadres and Rocky Salinas. There will be authentic Mexican dancers, a class teaching Merengue and Salsa dancing, a Jose Cuervo dice game with the change to win $25,000, attendance prizes and raffles.
Flaco's Cocina For Flaco's 3rd Annual Cinco de Mayo party, there will be a large tent outside, housing a satellite bar and cooking demonstrations. Live music provided by Dan the One-Eyed Bandit and Cockfight, as well as DJ Chan from 9 p.m.-1 a.m.
Nachomama's Enjoy margaritas and music on Nachomama's recently expanded outdoor patio.