This is part two of Chrissy Wilmes' Chef's Choice profile of John Caton of Benton Park Cafe (1900 Arsenal Street, 314-771-7200). Part one can be found here. Part three, a recipe from Caton, is here.
Chrissy Wilmes
John Caton and Jessica Lenzen, co-owners of Benton Park Cafe.
Did your family cook when you were a child? Yes, and the rule at my house was if you cooked the meal, you did not have to clean up. So I was a fan of helping with the cooking part.
How old were you when you started cooking? Probably around eleven or twelve.
First cooking job? A small pizza and pasta place called Paesanos. This is where I met my business partner, Jessica.
Did you attend culinary school or college? I attended the University of Missouri, Columbia. I graduated with a bachelor's degree in the hotel and restaurant management program.
What do you eat? Pretty much anything. I am not a very picky eater, and I am a firm believer in trying everything at least once. Anything that is out of the ordinary or different I like to try, but you can never go wrong with some of mom's comfort foods.
What do you cook at home? I am a single guy with a roommate and three dogs. I honestly don't do a lot of cooking at home, but when I have guests over, I like to do somewhat traditional appetizers with some different styles to them.
What are your three favorite restaurants in St. Louis (besides your own!)? Wow, that is a really tough question. There are so many great ones to choose from in St. Louis. I would break down three of my favorites like this: date night, Sidney Street Café; casual dining at a medium price, Frazer's; and quick but delicious, Blues City Deli.
The local chef who most impresses you? Chef Gerard Craft down at Niche does some amazing things with food. Not only has he been nationally recognized, but everyone I have talked to about their experience there has done nothing but rave about the food.
Your favorite restaurant elsewhere? I am not sure if it is because I am from the Midwest, but one of the first restaurants that comes to mind is Lambert's, home of the thrown roll, in Sikeston. Very traditional food, but the whole experience of the place really sets it apart from anywhere I have ever been. Oh yeah, and Booches in Columbia -- delicious burgers.
Your favorite food city? Without a doubt, NYC. There is no cuisine that you cannot find, and the amount of options there is almost limitless.
Favorite recent food find? Pho Grand. I know it has been around a while, but I went there with a vegan friend and ate vegan with her, and everything we had was amazing.
Most essential ingredient in your kitchen? Eggs. We started as a breakfast-and-lunch place that served breakfast all day. Many of our signature dishes are egg based. Favorite local food find, and where do you get it? Miller ham. You can find it at many small grocers or meat markets around the area, or you can call and get it directly from them.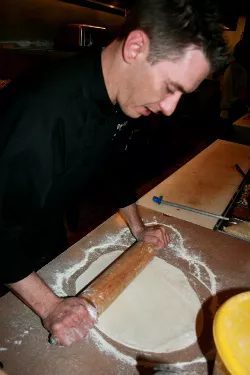 Five words to describe your food. Fresh, filling, tasty, modern and affordable.
One food you dislike. Mushrooms have never really appealed me. I still use them in my food and understand why people do like them, but I have never been a fan.
A food you can't live without. Steak. If I could only eat one thing for the rest of my life, I would choose steak.
An ingredient never allowed in your kitchen. Not really. I am open to pretty much any idea or trying almost anything, so I do not set those types of limitations. The only thing strictly not allowed in my kitchen is a bad attitude.
Culinarily speaking, St. Louis needs more... Recognition.
Best tip for home cooks. Dont be afraid to step outside the box and try something new. All of the best chefs and greatest inventors have failed at a new idea. But it is their persistence that has produced some of the most amazing things out there.
Favorite after-work hangout. Another tough one, there are so many great little places in the area. Summertime, Venice Café, in the garden. Winter, O'Malley's Irish Pub.
Favorite kitchen tool. A wok.
What's next for you? Not sure yet. Taking it one day at a time.
What inspires you? Smiles on my guests' faces.
Chefs who inspire you. Anthony Bourdain.
Proudest professional moment? Opening the Benton Park Café.
Favorite music to have in the kitchen. Anything that keeps you moving and upbeat. James Brown is a good example.
What's on your pizza? Anything but mushrooms. That is the beauty of pizza.
What's in your omelet? Chorizo sausage, Miller ham, tomatoes and bacon.
What are you drinking? Moose Drool brown ale is a favorite.
What's the most surprising food you've eaten? The fried blue cheese app at Sidney Street Café. I dont really care for blue cheese, but it was really good.
What's the most difficult lesson you've learned in this business? Opening a restaurant in the beginning of a recession can make starting off a bit more challenging than expected.
When did you know the chef's life was for you? Since my first job in a restaurant when I was fifteen, I always wanted to own a restaurant. In college is when I realized that the kitchen was the spot for me.