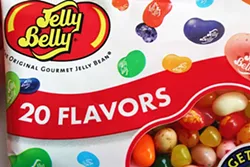 Katie Moulton
Lies! Buyouts! Blackmail! Jelly beans!
In 1976 lifelong candy enthusiast David Klein had an idea: to take the lowly jelly bean, that reject runt of the Easter basket, and turn it into gold. Jelly Belly, the world's premier "gourmet" jelly bean, was born, and the rest is history.
Well, not exactly.
When Klein got in touch with Gut Check after we posted Battle Gourmet Jelly Beans, we leapt at the chance to interview him, but we quickly learned that Klein's road to sweets success has been fraught with controversy. We spoke with Klein about the history of Jelly Belly, the 2010 documentary Candyman, how his teeth are holding up after decades in the candy business and his plans for a jelly-bean comeback.
Gut Check: Hi, Mr. Klein.
Mr. Klein was my father! I'm David. Did you know it's National Jelly Bean Day?
No! But happy holidays! Can you fill us in on your history? How did you get into the candy business?
I have no secrets at this point in my life. I'll be 65 in September. I loved candy from the beginning -- it's like I was almost destined to be in the candy business. I knew from seven or eight. My grandparents and aunt and uncle owned a liquor store in Van Nuys, San Fernando Valley, and I used to work there in the summers and help my aunt buy candy to stock in the store.
I used to follow the histories of the different candy brands, made a study of the candy industry. I figured I needed to know more about the business than anyone else. In junior high other kids would say something like "Butterfinger," and I would be able to tell them the whole history of the company and its products.
Later I went into the wholesale nut business, but I always wanted to create my own candy line. One night I was talking to my buddy, and I said, "What if we opened a candy store and we only sold jelly beans?" Of course, I had $800 to my name at the time, was married to my first, only and current wife Rebecca, and we had a little son, Bert. I didn't have enough to open my own factory or retail store, so I had to contact a man who had an ice cream parlor and ask if I could have a little corner of the shop where I could start selling these beans. And I agreed to split whatever we made with him -- so if I made $20, I gave him a check for $10.
Why jelly beans?
Because nobody had done anything with them in the past. I wanted to create a fun item with new flavors, because every flavor of jelly bean tasted alike. My initial concept was to flavor the inside.
So how was Jelly Belly born?
I was fortunate enough to contact Marinus van Dam, the most fantastic candy maker that has ever existed. When I went to him, he created the original Jelly Belly recipe and formula. He passed on about fifteen years ago, but his sons Brad and Troy are now making my new jelly bean 35 years later!
Then I started working with the contract manufacturer Herman Goelitz in Oakland. I was trying to sell the product to the stores I sold nuts to, but none of my existing contacts wanted any. I could not give it away.
Part of that first problem was that the jelly beans cost $2 per pound. Most [others] were 60 cents a pound, but I said to myself: I know this is a good product, and I don't want to give up on it. So I made one phone call, and everything changed.
What was the one phone call?
I knew you were going to ask that! I called up the Associated Press and asked to speak with the editor of the business section. I talked to Steve Fox and said, "I have the only jelly bean store in the world." Which was sort of true -- it was a store within a store. He said, "How's it doing?" A natural question. A good day was $20 to $25. But I said, "Steve, we are doing fantastically well," to keep his attention. He wanted to come out and see the operation, so when he showed up, I had phony customers lined up to buy the product. I slipped them money -- kind of like in The Sting -- and gave them little scripts: "I hope you still have the black licorice" and "I'm flying back to New York and I had to get these for my dad." He [Fox] was so amazed that people were showing up like this for jelly beans, and I said to him, "This is actually a quiet day."
The story hit the wire service within a week - the Chicago Tribune, L.A. Times, New York Times -- the whole country. And I never had to do any selling after that. Famous-Barr, Marshall Field's -- all these stores ordered without even seeing samples. It just took off.
Smooth sailing after that? Well, not exactly. I was extorted by one of our distributors after I started getting a lot of press.
Someone else already filed a California trademark for the name Jelly Belly, but our lawyer said we could just apply for the federal trademark and it would overrule the state trademark. However, the man who owned the ice cream parlor where I first sold the jelly beans did obtain the California trademark. He called me and said, "This is not a social call. How many partners do you have in the jelly bean business? Just one: me. I've got the trademark in my hands. I'm your new partner and this is how we're going to do things...." He wanted to be guaranteed $64,000 per year for the rest of his life. We did draw up a contract, but my lawyer left off the phrase "per year," so after we gave him the first check for $64,000, it was finished.
How did your relationship with the Jelly Belly brand end?
It didn't end on a good note. The president of Herman Goelitz [now Jelly Belly] called me up and said, "We're coming to town, we're coming to buy you out, and we're not leaving until we do." I knew that if I didn't sign, they would drop me anyway -- stop production of Jelly Belly and make the bean under a different name. By the time we would get to court, I would've been broke.
So Herman Goelitz gave me a check for $1,000, and a promise to pay 17 cents per pound for the next 20 years with a cap of 120,000 pounds per month. We put our trust and faith in their ability to market the product. After giving half to my partner and taxes, I made about $5,500 per month from the royalties, paid until 2000.
The contract also bound me to a twenty-year noncompetitive clause that said I couldn't create another jelly bean product. It was only recently I learned that no court could have enforced that clause.
What's your relationship with Jelly Belly like now?
I've been written out of Jelly Belly's history. They want to make it sound like the immaculate conception. For example, their website states that I was a candy distributor from LA, which is not the truth. And they didn't mention me [by name] once in company history book they released for Jelly Belly's 30th anniversary.
The truth is, when I approached Herman Goelitz, the company was struggling. Its business was based on candy corn. The secret behind the success of Jelly Belly was my idea of new flavors and ingredients. I never claimed to be a candy maker.
Tell us about the film -- how it came about. My son Bert and his wife Jennifer were in New Zealand -- they're both animation artists -- working on the Lord of the Rings, and [director] Costa Botes, a man who was personal friends with Peter Jackson, met Bert and read a few of my blogs at the time and said, "I see a story here. This guy's a character." Bert thought it was important for my grandkids to know who their grandfather was.
But you gotta be careful that it's the truth, gotta be able to back it up. We made some mistakes in the doc. For example, we wanted to interview the owner of Jelly Belly, so Costa decided to go in undercover. But he was detected when he knew too much and was thrown out with them saying he couldn't use any of the footage.
[The documentary, which aired on the Documentary Channel in November 2010, is available for purchase on Amazon, and can be downloaded on indiepixfilms.com.]
Fill us in about what you're doing now.
My daughter has been creating all kinds of really great products as the company Sandy Candy. I had become friends with Ellia Kassoff, who is bringing back Astro Pops, and he asked me one day what I wanted to do with the rest of my life in the candy business. And I said, "I hope to someday make a new bean."
On May 24 we will unveil our new jelly bean product at the Sweets & Snacks Expo in Chicago. Because Jelly Belly is still the best jelly bean out there and the name is so entrenched in the lexicon, we couldn't just come out with a "me too" product. So with David's Signature Beyond Gourmet Jelly Bean, we're taking it to a new level.
What's your favorite candy? Favorite jelly bean flavor?
Pear, because it was so realistic. Every candy should taste like you want to take another bite of it.
We have to ask: After decades in the candy business, how are your teeth?
I have seven teeth left! I'm not joking. Hard for me to say a few words without whistling. You don't appreciate your teeth when you have them. I could probably tell you what kind of candy I lost each tooth on.
Editor's note: David Klein is waiting until the candy expo to unveil his new bean, but he has promised Gut Check a tasting. We'll publish a post during the expo and add a link from this post.