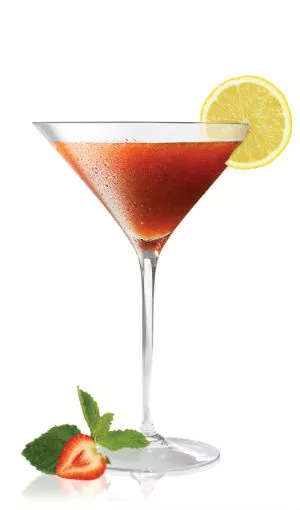 Ultimat Vodka
Mama's loves her Mom's Ultimat Martini!
Forget the flowers this Mother's Day, because Mama likes to drink! At least that's what the folks at Ultimat Vodka are hoping.
The brand, distributed by the fine folks who brought us Patron Tequila, has created signature cocktails for Mother's Day. Like The Ultimat Mom's Martini, made with an ounce of their vodka, an ounce of melon liqueur, lime juice, soda water, muddled cranberries, strawberries, and mint, and garnished with a lemon slice, that they say, "will have any mom feeling like the 'Ultimat Mom!'"
They also have a recipe for The Ultimat Mother's Day Bloody Mary, but it's really not any different from other Bloody Mary recipes. That's sure to make Mom feel super-special.
Fact is, a cocktail with two ounces of liquor doesn't even begin to relieve the stress and angst you little bastards have caused your mom over the years. Hell, that doesn't even ease the phantom episiotomy pains she still experiences when you do something bad.
You owe her more than one fruity little vodka cocktail. And while you're at it, you should thank your lucky stars that your mom didn't turn out like these tippling mothers, what with all the shit you tried to pull.
Judy Garland Follow the yellow brick road? Only if it leads to a bottle of gin! The talented Ms. Garland, mom to Liza Minnelli and Lorna Luft, gives us a toast before dying of a barbiturate overdose, which only sped up the slow cirrhosis death she was facing.
Joan Crawford Oh, Mommie Dearest. Joan's campy biopic, famous for her crazed drunken rampage against her child and wire hangers, depicts just how evil a woman can be when she combines children and drink.
Betty Ford The former First Lady and mother of four, looked like the perfect political wife. It wasn't until after her husband left office that her family staged an intervention for First Mama (that was her CB handle) because of her excessive drinking. She not only quit the booze and the pills, but founded one of the most revered recovery clinics in America. You might want to book a visit there for your mom if you catch her boogieing down to Alter Ego's electronic tribute to Betty. Lee Remick There's no evidence that Remick was a drinker, but she sure did a great job playing one. In The Days of Wine and Roses, Remick portrayed a teetotaler who marries a drinker, bears his children, and eventually becomes more of a lush than he is.
Elizabeth Taylor She, too, could play a wicked 1960s drunken lady like no one's business. But the mother-of-four had real-life experience, seeking alcoholism treatment at the Betty Ford Clinic several times in the '80s.
Courtney Love Modern drunks moms don't have nearly the class and style of the classics. Case in point? Courtney Love. Francis Bean Cobain's mom's problems go far beyond "Drunk in Rio". We're anxiously awaiting the tell-all book.