Ian Froeb
The breakfast tacos at Milagro Modern Mexican
Last month, reigning
RFT
"Best Mexican Restaurant"
Milagro Modern Mexican
(20 Allen Avenue, Webster Groves; 314-962-4300)
introduced
a new brunch menu
. It's available every Sunday from 10 a.m.-2 p.m., and unless your weekly brunch must include crab claws on ice, you should include it in your brunch rotation.
If, like me, you're not really a brunch type, Milagro's brunch menu finally provides a reason to put on some pants and leave the house on Sunday.
The photo at the top of the post shows the potato-chorizo tacos: sausage and perfectly cooked potatoes (neither too soft nor too hard) with grilled onions,
queso fresco
and
crema
inside a soft corn tortilla. These were served with a side of scrambled eggs and a dish of tangy, lightly spicy salsa verde for the tacos or the eggs or, you know, eating directly from a spoon.
Here is something I rarely write: I didn't order the tacos. (My wife did.)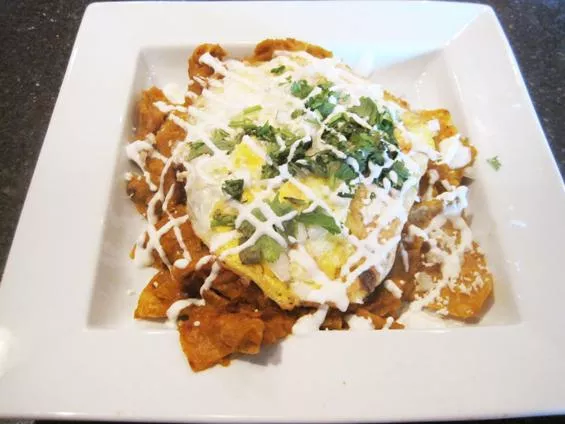 Ian Froeb
The chilaquiles at Milagro Modern Mexican
I ordered the
chilaquiles
(pictured above). This is a classic Mexican breakfast dish (and a way to turn leftover tortillas into a filling meal). The tortillas are cooked until very, very soft (though not at all mushy) in a fiery red salsa and then topped with two fried eggs, cilantro and
crema
.
Milagro's version of
chilaquiles
is quite spicy -- maybe the spiciest dish I've had at the restaurant -- though the eggs do take some of the edge off this heat.
Tacos: $7.95
Chilaquiles
: $8.95