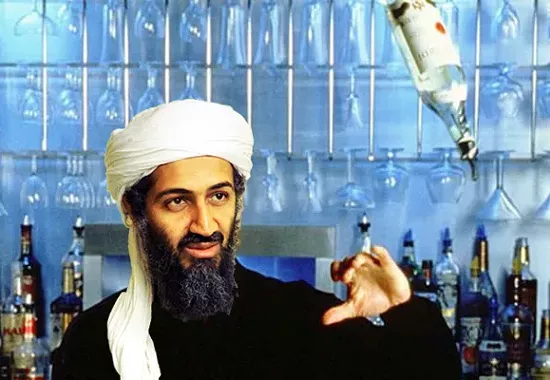 A dispatch Monday afternoon from the all-things-food site Eater.com noted that restaurants are offering drink specials in honor of the killing of Public Enemy No. 1 Osama bin Laden.
A few establishments among the handful of examples Eater cited were serving free drinks, but the majority were merely offering discounts, and all appeared to be using the occasion of the fallen al-Qaeda leader purely as a marketing ploy, and only a couple even went to the trouble of ginning up a themed beverage. Then again, this is America: Land of the free, home of the avaricious.
With all due respect to Uncle Fatty's Rum Resort in Chicago and its specialty cocktails (the "Floating Terrorist" and "Osama Been Shot") and the Candi Shack in Seattle with its dollar coffee with an "Osama bin Laden Shot in the Dark," you can do just as well at your local watering hole, or at home, with these seven recipes...
7. The Osama bin Laden For the reveler who desires something basic and straightforward, just to whet the ol' whistle... 1 oz. absinthe 1 dash Tabasco sauce (or more, to taste)
6. The Osama Shooter Want to up the ante a little? Well, you're going to have to do so with four different potent substances, and one of them is Jäger. In other words, this would go down nicely on Fraternity Row. 1/4 oz. vodka 1/4 oz. tequila 1/4 oz. rum 1/4 oz. Jägermeister
5. The Dead Bastard Speaks for itself. 1 oz. brandy 1 oz. bourbon 1 oz. gin 1 oz. rum 1/2 oz. lime juice 1 dash bitters 1 oz. ginger ale Ice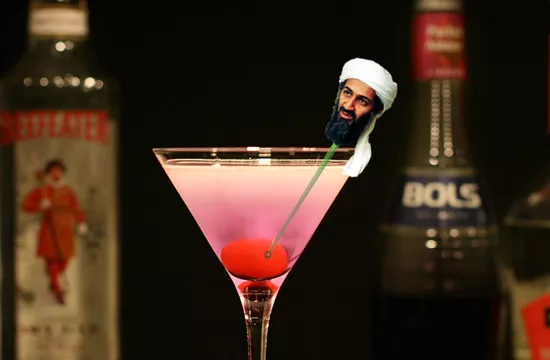 4. The Shitface See No. 5 above. Neither of these drinks is bin Laden specific, but who cares? This one actually looks pretty good. 2 oz. 151 proof rum 1 oz. grenadine 1 oz. simple syrup Fill with orange juice
Pour rum, grenadine, and sugar syrup into a shaker. Fill with orange juice. Add ice and shake, strain into glass and garnish with maraschino cherry.
3. The Flaming Asshole Like No.'s 4 and 5 above, this beverage could be consumed at any time. Yes, the name seems suitable, but it might just as well apply to the patron who orders it. Yuck. 1/2 oz. grenadine 1/2 oz green crème de menthe 1/2 oz. crème de banane 1/2 oz. light rum
Layer in this order: grenadine, crème de menthe, crème de banane, rum. Ignite rum. Serve with a straw.
2. The Osama bin Laden Felching the Fat Dixie Chick Gut Check will down one of these, but only because we like artichokes. 1-1/4 oz. Cynar artichoke liqueur 1-1/2 oz. DeKuyper Pomegranate Schnapps 1-1/2 oz. DeKuyper Pucker Berry Fusion Schnapps 1. Hangman's Blood This drink really deserves a post unto itself. It comes courtesy of the great but underappreciated novelist Richard Hughes, who describes it in a passage of his brilliant 1929 novel, A High Wind in Jamaica:
Captain Jonsen, however, had his own idea of how to enliven a parochial bazaar that is proving a frost. He went on board, and mixed several gallons of that potion known in alcoholic circles as Hangman's Blood (which is compounded of rum, gin, brandy, and porter). Innocent (merely beery) as it looks, refreshing as it tastes, it has the property of increasing rather than allaying thirst, and so, once it has made a breach, soon demolishes the whole fort.
The drink, though, is often credited to Hughes' fellow novelist (and Englishman) Anthony Burgess (A Clockwork Orange), whose version was as follows:
Into a pint glass, doubles of the following are poured: gin, whisky, rum, port and brandy. A small bottle of stout is added and the whole topped up with Champagne... It tastes very smooth, induces a somewhat metaphysical elation, and rarely leaves a hangover.
At any rate, here's a recipe for the Burgess version:
1-1/4 oz. gin 1-1/4 oz. rum 1-1/4 oz. whiskey 1-1/4 oz. brandy 1-1/4 oz. port 5 oz. Guinness or other stout 4 oz. Champagne
Add all five shots to a pint glass. Top to desired level with stout. Fill to top of glass with Champagne.