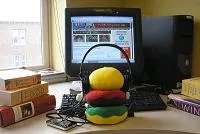 Gut Check dishes on our favorite St. Louis food blogs.
The Cheesemonger's Wife: Annie wrote an informative post about cheese made from water buffaloes' milk.
The Cupcake Project: Stef shared her recipe for Almond Amaretto Cupcakes.
Off the Menu: Judith provided a much needed rainy-day recipe: chocolate banana cupcakes.
Family Style Food: Karen shared her recipe for rosemary & bittersweet chocolate quick bread.
Relish: George tried out Jilly's royal wedding cupcakes.
Iron Stef: Stef shared her recipe for a caramelized leek and morel tart.
Sauce: Sauce hit the sauce at Salt, trying out the signature cocktails.
STL Hops: STL Hops announce the return of Schlafly's American IPA.
Veggie Venture: Alanna explained how to make a roasted beet salad.
Veg St. Louis: Veg St. Louis checked out the Scottish Arms' vegetarian options.