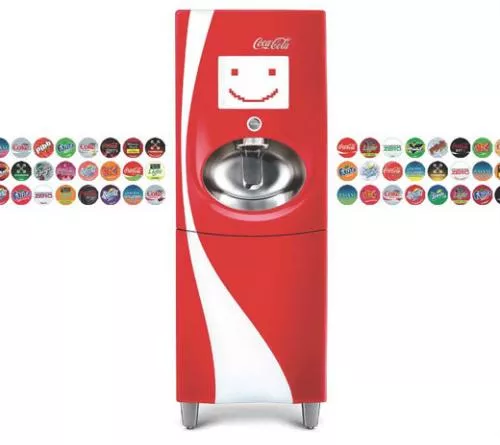 Perhaps realizing that the "battle" between the world's two most iconic soft drinks (sorry, Dr Pepper) is simply a matter of whether you prefer the achingly sweet flavor of one or the other, both Coke and Pepsi are looking past the beverage to the beverage-delivery system as a new way to differentiate themselves.
First, from Coke, we have the Coca-Cola Freestyle machine, pictured above. This machine was introduced to the St. Louis market just last week at the Ferguson location of
Wingstop
(10841 West Florissant Avenue; 314-522-9696)
. The Freestyle soda fountain lets customers choose from more than 100 different soft-drink options.
Based on posts on
the Freestyle's Facebook page
, many of these options include adding fruit flavors like raspberry and peach to established drinks like Coke and Sprite.
Frankly, Gut Check can't wait to test this machine out -- especially to see which brands never before available in the United States it carries, as promised -- and I'll be filing a report soon.
Pepsi's new machine is still in development. However, after the jump, we have a video of what will make this device different.
Pepsi calls its creation a "Social Vending Machine." Using the machine's touch screen, you can purchase a soda (drumroll, please)
for someone else
. The machine then sends the recipient a text message -- and, if you want, a video message from you! -- alerting them of the gift, which they can then redeem at one of the machines.
Frankly, the Coke machine is far cooler -- and more practical -- than the Pepsi contraption. Now, a machine that would let you buy an alcoholic drink for someone else...that would be pretty damn awesome.
(h/t for the Pepsi story: Eater)