Gut Check is constantly working to bring the latest food news to our readers. As a result, we do a lot of blogging. In an effort to draw attention to great posts that may have otherwise been lost in the blogosphere (and to recognize our hard-working writers), we present Post of the Month.
Katie Moulton
White Castle knows the way to Gut Check's ego.
Seasonal. Fusion. Ethnic. Bacon crumble. These are all words Gut Check never thought we'd hear within slinging distance of a slider.
Yet there we were Thursday morning, listening to White Castle's new corporate chef discuss how the fast-food chain is expanding its menu with an eye toward...freshness. And it all begins with breakfast. White Castle invited Gut Check, along with other St. Louis food bloggers, out to its Bridgeton location (11979 Paul Mayer Avenue; 314-738-7999), to introduce its revamped breakfast menu.
Right now the breakfasts are being tested in the St. Louis market only, but White Castle communications director Debbie Cline says the company intends to roll out the breakfast menu in other markets late this year.
Though representatives of the mainstream media were noticeably absent from the Castle's blogger confab, there was absolutely no way Gut Check was going to miss this.
According to executive chef Phillip Bach, White Castle has always set itself apart from its competitors by its use of fresh ingredients and by the fact that its staff actually, well, cooks.
"Every time we make an egg sandwich, we actually crack an egg," Bach said -- meaning you won't find any processed egg-slab-from-a-carton on your White Castle breakfast slider. "We actually throw the bacon on the griddle, just like you would at home."
According to one corporate suit in attendance, none of the White Castle kitchens even has a microwave. (A revelation to which Corey Woodruff of I Went to a Show responded, "You should get one. They're awesome.")
Along with breakfast, Gut Check got our fill of these fun factoids:
White Castle was founded in 1921 (!) in Wichita, Kansas, though it's now headquartered in Columbus, Ohio, and by 1925 had set up an outpost of its mini-burger kingdom in St. Louis. (For those of you keeping track at home, Steak 'n Shake was founded in 1934, McDonald's in 1940.) For more than 80 years, the family-owned, vertically integrated company has resisted franchising and remained fairly small (400 locations) and regional. Which explains why it was so difficult for Harold and Kumar to get to one.
Though the restaurants' sterile aesthetic may originally have been intended to imply cleanliness, the white-tile décor might also evoke images of a less savory porcelain, er, citadel. (You know what we're talking about.) As counterintuitive as it might seem, Chef Bach -- who was hired eleven months ago and has a background in fine dining and ice sculpture -- seems dead set on foiling those who would sully White Castle's image as an onion-and-grease square-patty assembly line.
How? With a "focus on food."
Katie Moulton
"We make tiny little hamburgers!" Executive chef Phillip Bach, a highly quotable ex-ice sculptor, explains the "new age of crave."
The current PR offensive is jumping on-trend with consumer buzzwords: "fresh," "authentic," even "healthy." White Castle is offering a new Whole Grain Zero Trans-Fat Muffin by Sara Lee -- a moist, tasty block of muffinosity that fits in a slider box. There's no danger, though, of White Castle going granola. "It's hard for us to decide what's healthy for you," Bach said. "For example, we're going to offer a grilled-chicken sandwich, and if you want to order it 'naked,' you can. But if you want to pile on the cheese, bacon or hot sauce -- the decision is yours."
You heard right -- White Castle has hot sauce (zingy!), and you can customize your orders. Who knew? In addition to raising awareness of its existing products and policies, the chain is also introducing expanded service options, such as online ordering.
Bach said the company wants to move into catering, to serve as the go-to quick-service restaurant for a "meal solution" that'll cover customers "soup to nuts." In addition, the chain is currently testing its 24-hour breakfast at two St. Louis locations: Marlborough (7945 Watson Road; 314-968-6317) and Florissant (840 North Highway 67, 314-838-1946).
Other Bach experiments involve playing around with sun-dried tomato, pesto, a 100 percent black Angus beef hot dog -- even an ahi tuna-and-wasabi slider. "We're looking for the hook that gets you excited about the food," the chef explained. "We've always been a little quirky, a little different from the rest. I mean, we make tiny little hamburgers!"
Just as Gut Check was trying to decide whether this was 1) a late April Fool's ruse, 2) a hallucination or 3) a desperate grab for market share by a privately held company that's quietly going under, we were brought (gratefully) back down to earth.
"Does this new direction include doing away with the slider?" we asked meekly.
A resounding "No!" chorused in unison from the besuited corporate types.
Bach reassured us that White Castle is still thinking inside the box. "We've got an iconic brand we want to preserve," he soothed. "It's the new age of crave!"
So what did we eat? The revamped breakfast menu was presented in three flights. That's right, flights.
Katie Moulton
Flight #1: Bacon breakfast slider and hash rounds. Donuts were offered to cleanse the palate.
Flight #1: Breakfast Slider with Crispy Home-Style Bacon, Fresh-Cracked Egg & Cheese and Hash Rounds; also, doughnuts and pastries
The slider featured its typical bun, soft and fluffy. The cheese is a slice of half-melted American cheese. The white-and-yellow folded-over egg does indeed taste like egg, and the bacon is thin and crisp, i.e., real. The hash rounds were tasty, not too greasy. Once we popped, we couldn't stop. The pastries, not surprisingly, were nothing to write home about.
Flight #2: Breakfast Slider with Sausage, Egg & Cheese, and French Toast Sticks
The sausage patty was thin, but deliciously spicy. The French toast sticks were crisp on the outside, light and fluffy inside. It's nice that the sticks aren't sugary in themselves, but there is syrup for that, made by Madeira Farms of Mason, Ohio.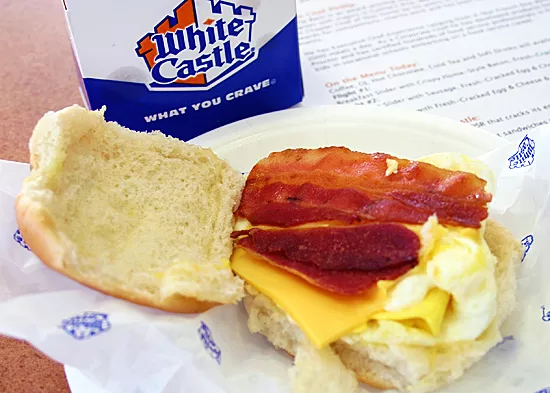 Katie Moulton
Zing! WC has jalapeño cheese and hot sauce. All you have to do is ask for it!
Flight #2.5: Breakfast Slider with Jalapeno Cheese
The presence of Scott Roberts of the Hot Sauce and Spicy Food blog inspired the White Castle crew to serve a sample of the breakfast slider with bacon, egg and jalapeño cheese. This cheese was no slouch -- spicy for fast food -- and Gut Check would definitely order this option, maybe with the kicky sausage to up the ante!
Flight #3: Breakfast Slider with Egg & Cheese, and a Whole Grain Trans-Fat Muffin.
Just when we thought White Castle was denying its roots, out came the onions! Here we have the original White Castle burger patty, avec l'oignon, served on the customary bun with egg and cheese.
Gut Check enjoyed this sandwich, but that's because we appreciate the virtues of the White Castle original. Let's not kid ourselves: If you're going to eat White Castle for breakfast, you don't need to mess around with egg.