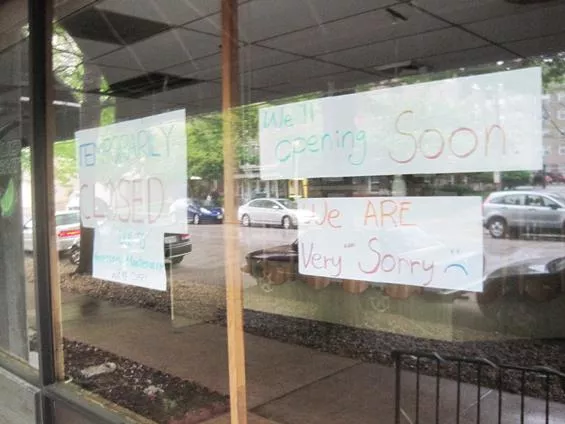 Ian Froeb
The signs in the window of Kampai
The Central West End sushi restaurant
Kampai
(4949 West Pine Boulevard; 314-367-2020)
is temporarily closed "due to necessary maintenance," according to the signs in its front window and the message on its voice mail.
I have a call into the restaurant to find out when it might reopen and will let you know more as I learn it. Looking through the window, I saw that work was being done -- or needed to be done -- on the floor, and that there were a few of those industrial blower-vacuum-type machines used for repairing water damage.
Update
: (Thursday, April 28, 12:00 p.m.) I spoke this morning with a Kampai employee who confirms that the restaurant is repairing water damage to its floor as well as its ceiling. She tells me that the restaurant hopes to reopen in two to three weeks.