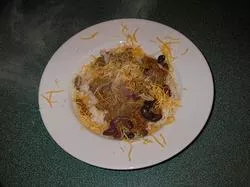 Ian Froeb
The Obamas' chili, as prepared by Gut Check in 2008
Skimming Eater this morning, I couldn't not click on the link to an article titled
"Michelle Obama, Your Chili Is Bullshit"
-- and not just because that's one helluva compelling headline.
Blog the Gurgling Cod calls bullshit on the first lady in part because the author finds that the recipe, proffered in a recent issue of Parade magazine alongside a chicken Parmesan recipe from Jill Biden, is "terrible."
Again, I'll admit this chili isn't going to win any cook-offs, but is it terrible? Hormel chili in a can is terrible. Assuming you don't screw up the recipe, this is no better or worse than the chili -- or, as chili purists might have it, the "chili" -- countless Americans have thrown together for a weeknight dinner.
So while I disagree with the Gurgling Cod on the relative merits of the Obamas' chile, I agree with the blogs' larger implication: Obamas, you have been in the White House for nearly two and a half years now. It's time to spring another recipe from the vaults.