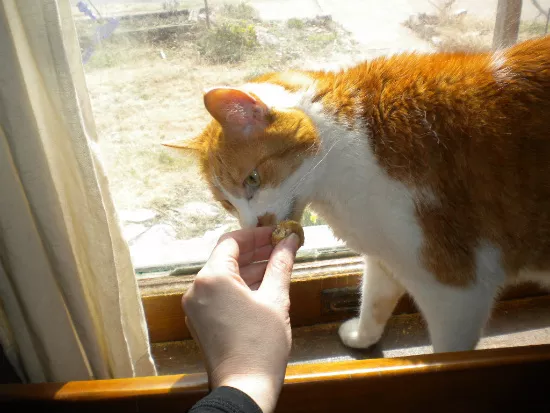 Deborah Hyland
Sherman, professional treat-taster
The Treat: Soft-bite cat treats from Treats Unleashed (8861B Ladue Rd.; 314-726-2330). Retail $1.00 for 5 treats.
The Panel of Testers: Nikolai and Kitty; Fiona Falafel and Ziggy the Wondercat; Yma Sumac and Sherman; Marishi: cats Steuben and Smudge: dogs (control)
The Results: The soft-bite cat treats are an extension of the vast line of dog treats at Treats Unleashed. Whereas the soft-bite dog treats come in a wide range of flavors like cheeseburger, pumpkin or cranberry, the cat treats come in only one flavor: "Kitty Caviar." The cat treats are much smaller than their doggy cousins, about the size of 1 tsp. for the cats versus 1 Tbsp. for the dogs. Still a fairly large size for a cat, the treats crumble easily into reasonably-sized portion
Cats can be finicky creatures. Their taste for vegetation seems limited to yakking up the occasional houseplant onto a pile of clean laundry. How will cats like the Treats Unleashed goodies, which are baked in-house from a mixture of oatmeal, applesauce, honey, eggs, canola oil and bonito flakes?
Nikolai, age eleven and diabetic, normally hates fish, but loves oatmeal. In the past, his weight fluctuated wildly from a high of 35 lbs to a low of about fifteen, until twice daily shots got his system back under control. Obviously no slacker on the food front, he's been clicker trained to high-five in exchange for treats. Nikolai wolfed down his treat. His housemate, Kitty, a fish lover but generally an anxious sort, came out to investigate and flopped on the floor near the treat. When she fled without eating her portion, Nikolai ate it for her.
This pattern repeated itself in other households. Fiona Falafel, who has a reputation for gluttony, refused to even lick the treat, yet her housemate, Ziggy the Wondercat, ate his own treat and then Fiona's.
Deborah Hyland
Yma, another treat-taster
Yma Sumac rejected her treat after a brief sniff, while Sherman chose to sit on his. The two litter-mates, age ten, seemed interested in the treats, but not enough to actually eat them. In the interest of objectivity and kitty serenity, Gut Check had put up a puppy gate to separate Steuben while Yma Sumac and Sherman sampled their treats. The smell of Treats Unleashed cat treats, however, overpowered Steuben's already weak sense of self-control. When Gut Check unwisely clicked to call a cat over to the treat, Steuben took it as a sign, knocked down the puppy gate with a clatter, shot across the room, vaulted over the couch, and offered to eat the cats' treats. After all, he pointed out, the cats had run off and didn't seem to want their treats anyway.
At this point, the results seemed mixed. Time to turn to single cats and single dogs. Marishi, a ten-month old, enjoyed the treats immensely, licking and nibbling at them.
Smudge, the studio dog at All Along Press (allalongpress.com), is as wildly creative as one would expect for a denizen of a collaborative art space on Cherokee St. A four-year-old, Newfoundland mix, she will not eat a peanut unless it has been broken in half. Otherwise, she wisely suspects it's some sort of pill. An intelligent, discerning pooch, Smudge has converted pedestrian dog tricks like "Shake," "Speak," and "Roll over" to "Show me your nails," "Lip Sync," and "Are you a boy or a girl?" respectively. Smudge willingly performed all these tricks and more just for the chance to sample the soft-bite cat treats. A fan of apple cores, clementines, and the occasional bit of dog poop, Smudge was willing to perform for the cat treats as long as they lasted. When the treats were gone, she wandered off to see if any other visitors were also conducting taste tests.
The Verdict: Whether your cat will like Treats Unleashed soft-bite cat treats totally depends on the cat. Since the treats are so inexpensive, there's little risk in trying them out. If the cat doesn't like them, the dog certainly will.