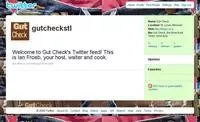 Don't you know? Gut Check has a Twitter account. You can follow us @gutcheckstl.
Here's some of what you missed on the Twitter feed this week:
Gut Check is stuck in a chair at home with a bad ankle sprain. Where should I order lunch from? (Gut Check Aux. HQ is in Shaw 'hood.)
Yeah, so, Eater "heat mapped" St. Louis. It's, um, an interesting mix. http://bit.ly/i2M95g
RT @stewedstl: @gutcheckstl That's really odd. My crotch usually shows up on most "heat maps". // #presentedwithoutcomment
I will get a Wim Wenders reference into a headline if it's the last thing I do.
Slate headline says it all: "Cupcakes of Today Are Disgusting and Depraved" http://slate.me/hptbN1