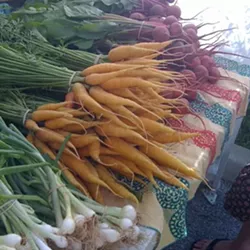 Holly Fann
Early Spring Carrots at Maplewood Farmers' Market
After months of peeling those gummy little stickers off our produce all winter, we at Gut Check are thrilled that it's finally famers' market season in St. Louis. Most markets are about to open, so it's a great time to get into the habit of making time to go to your favorite -- or favorites -- each week.
Brian DeSmet, market manager for the Maplewood Farmers' Market has a few tips for shoppers. First of all, "don't forget to bring cash." This may seem obvious, but the vendors at most markets only accept cash, with a few taking checks with proper id. The Maplewood Famers' Market has an ATM available for cash withdrawals, but most markets do not. He also suggests that you "come early, and come often," as the early bird gets the morels, so to speak, as well as the prime parking spaces. Lastly, DeSmet suggests that you "get to know your favorite vendors." The people who sell to you at the markets have likely grown or baked or harvested what they are selling to you with their own hands. Want to know what they'll have next week? Interested in buying a pound of ramps, but have no idea how to prepare them? Just ask your vendor.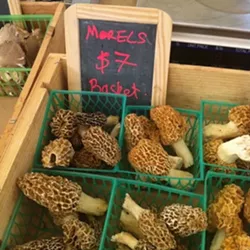 Holly Fann
Morels are available to the early arriver at the Maplewood Farmers Market
Maplewood Farmers' Market - Wednesdays from 4 to 7 p.m. at Schlafly Bottleworks, 7260 Southwest Ave. 314-241-2337
Webster Groves Farmers' Market - Thursdays beginning May 5. 3 to 7 p.m., Big Bend Boulevard and South Old Orchard Ave. 314-963-5696
Tower Grove Farmers' Market - Saturdays beginning May 7. 8:30 a.m. to 12:30 p.m. in Tower Grove Park, west of the Whitaker Theater at the Pool Pavilion
Clayton Farmers' Market - Saturdays beginning May 7. 8:30 a.m. to 12:30 p.m. 8282 Forsyth Blvd. in Straubs parking lot 314.913.6632
Downtown Farmers' Market - Thursdays beginning June 2. 11 a.m. to 2 p.m. at Locust Street between 8th and 9th
North City Farmers' Market - Saturdays beginning June 4. 9 a.m. to noon at 2700 N. 14th St. in Crown Square 314.241.5031