Kristen Klempert
Chad George of Demun Broadway Oyster bar gives his drinks a good shake during the signature ingredient round.
Sunday April 17, St. Louis' best bartenders competed at Taste's new home in the Central West End in the St. Louis' Top Mixology Competition sponsored by DonQ Rum. Mixology masters competed in two categories for two coveted spots to represent the Lou in the Manhattan Cocktail Classic occurring in New York this May. The competition included one category for fruit-forward drinks and one for signature ingredients in which contestants developed their own ingredients like bitters, vermouths, cordials, or whatever their imaginative minds could conjure.
For the past few years craft cocktails have been gaining popularity around the country. St. Louis bartenders have stepped up to the plate by experimenting with more exotic and unconventional ingredients to create drinks that are all about flavor, aroma and presentation. For the contestants, dressed to the nines in pressed vests and ties, the most important ingredients in their cocktails are pride, professionalism and love.
"Drinks just taste better with love," said Jamie Kilgore of Niche after her round in the signature ingredient category. She developed a salt and lemon syrup for her cocktail. "I just tried to go up there, smile and have fun."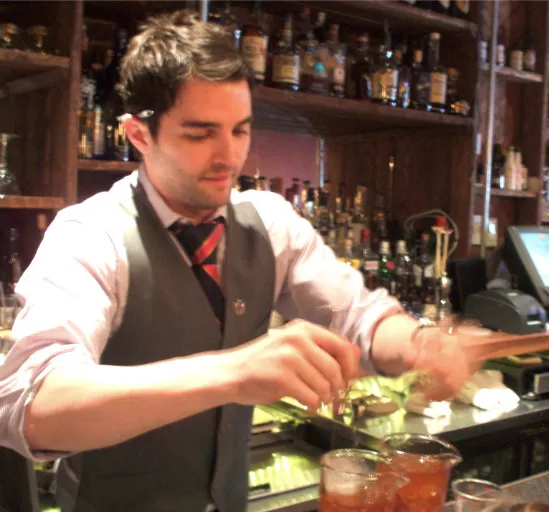 Kristen Klempert
TJ Vytalcil, winner of the Tall Fruit Foward Category, stirring his cocktails.
The contestants were judged by local restaurateurs, cocktail aficionados and chefs on not only the taste and quality of their drinks, but also on their presentation and flare while creating cocktails behind the bar.
Ted Kilgore of Taste, a big name in St. Louis mixology and a favorite in the competition, said one of the main reason craft cocktails have taken off here in St. Louis and across the country is because of mixologists' dedication and their professional approach to the art.
"I have 22-year-olds [Travis Garner and Shannon Ponche] working for me that are thinking of this as a profession. They take the time to get to know the products and the techniques because they see this as a reputable career."
And St. Louisans are drinking it all up. With craft cocktails, the experience includes watching the mixologist build the drinks.
"These guys are the best at what they do, and it's a pleasure just watching them," said judge Andy Foerstel.
With true showmanship, Demun Oyster Bar bartender Chad George's shakers were a silver blur as he prepared his signature cocktail, while TJ Vytlacil, George's co-worker, roommate and declared biggest competition, used an eyedropper to add precise amounts of his signature chili chocolate tincture.
Once the drinks were drank and scores tallied, Ted Kilgore won the signature ingredient category, and TJ Vytlacil took the tall fruit forward category.
"It's all about making drinks that are creative, fun, and coherent," said the victorious Vytlacil.