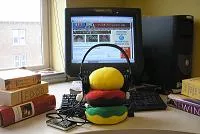 Gut Check dishes on our favorite St. Louis food blogs.
Eat It STL: The newest blog in our digest wrote about Sunday Supper.
Veg St. Louis: The vegetarian bloggers checked out Everest Cafe & Bar.
Cupcake Project: Stef shared a recipe for "bunny tails," an Easter version of donut holes.
Family Style Food: Karen shared her recipe for roasted strawberry refrigerator jam.
Relish: Kylah Brown reported on a local non-profit that's selling coffee and using the proceeds to get Ugandans clean drinking water.
Iron Stef: Stef celebrated the life of her recently deceased grandmother by writing about her cooking.
Off the Menu: The Post Dispatch announced a poll where readers can vote for their favorite soul food restaurant.
One Hot Stove: Nupur shared ideas for pressure cooker risotto.
Sauce: The folks at Sauce shared a recipe for an income tax cocktail.
Sounding My Barbaric Gulp!: Kelly shared the recipe for Thomas Keller's rubbed & glazed pork spare ribs.