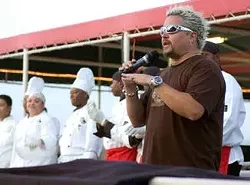 Guy Fieri, starring in exactly none of our proposed Food Network shows
The
Food Network this week announced several new series
to debut this year and next. Frankly, even by the Food Network's ever-lower standards, the list is unappetizing.
Among these new shows is an unholy marriage of Guy Fieri and Rachael Ray entitled
Guy vs. Rachael's Celebrity Smackdown
, yet another dessert competition (
Halloween Wars
) and
Tough Cookies
, a reality show about a family-run bakery in -- yup -- New Jersey.
Sounds awful, no? In response, we here at Gut Check International Headquarters and Television Production Facility have drawn up a slate of ten Food Network-esque shows that, if they existed, we'd much rather watch instead.
Chef-turned-freegan Pierre Brio calls this his "canvas."
Dumpster Dives and Drive-Bys
: Pierre Brio created quite a stir when he renounced his career as a Michelin-starred chef to follow the freegan lifestyle. In this series, Brio shows how you can easily create a meal worthy of the finest restaurants from the scraps and leftovers that find their way into trash cans, dumpsters and ditches along the highway.
(26 30-minute episodes)
The Great Food Truck Biathlon
: Eight food trucks race from Florida to California, trying to finish first and sell the most grub. Every 100 miles, the contestants stop for a target-shooting contest.
(13 one-hour episodes)
Giada Eats a Stick of Butter
: Each week, in a different scenic location in Italy, Giada De Laurentiis slowly unwraps and then consumes and an entire stick of butter.
(39 30-minute episodes)
Just My Type II
: A reality series following recently married couple George and Martha Stombergas as they open a bakery for their fellow diabetics. The tension of starting a new business is compounded when viewers learn that one half of the couple isn't following his or her restricted diet as closely as he or she should.
(8 1-hour episodes)
V is for Victory...and Vegan
: A game show in which vegans try to win a cash prize by sitting in a small room while waiters pile cooked meat and dairy products on a table in front of them without either a) eating something or b) throwing up. Paula Deen hosts.
(26 30-minute episodes)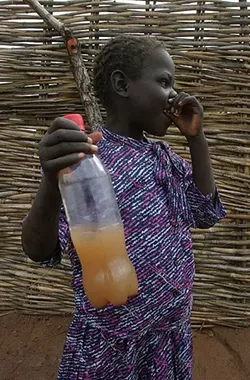 In a scene from the premier of A Drop to Drink, a girl offers host Kevin Brauch a sample of the local vintage.
A Drop to Drink
: A new series from Kevin Brauch, host of
The Thirsty Traveler
, in which he visits cities worldwide to sample the tap water.
(13 1-hour episodes, presented with limited commercial interruption by Imodium A-D.)
Michael Pollan's Chamber of Shame
: Noted journalist and advocate Michael Pollan pulls average citizens off the street and berates how they purchase and consume food.
(52 90-minute episodes)
Gimme Shelter
: The superstar tag team of Sandra Lee and David Bromstad, host of HGTV's
Color Splash
, visit homeless shelters and soup kitchens nationwide. Lee shows the shelters' cooks how to improve their offerings using only the canned goods and other staples already in their pantries, while Bromstad tries to spruce up the surroundings.
(13 1-hour episodes)
The Toast Whisperer
: Alton Brown explores the history of toast, from prehistoric hunter-gatherers roasting unleavened bread over fire to Ferran Adria's avant-garde "toast" made of pork kidney, smelt and agar-agar.
(26 1-hour episodes; limited run)
Bussed!
: Twelve rising stars of table bussing travel the country in a custom-fitted bus, visiting restaurants for such challenges as "Gone for Good or Just in the Restroom?" and "One Hand, Twelve Glasses, 30 Seconds." The contestants will also meet bussing legends like Vinnie "Three Hands" Vincenzo and Donald "Done Wit' That? Donny" Comstock. At the end of each episode, the panel of judges decides which contestant will be "thrown under the bus."
(13 1-hour episodes)