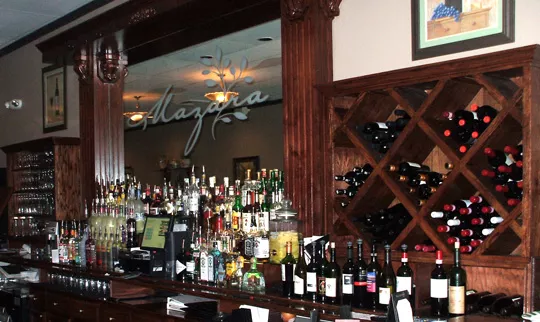 The Joint: Mazara 7923 Forsyth Boulevard, Clayton; 314-725-3434
The Hours: Mon.-Fri. 5-7 p.m.
The Deal: $5 Pineapple martinis, $4 well cocktails, $3 draft beers, $2 domestic bottles, discounts on select pizzas and appetizers.
What's a pineapple martini?
The Scene: Mazara has a European-inspired patio outside, lit by strings of elegant white lights. Which is why it's rather shocking to go inside and see décor more typical of restaurants found in suburban strip malls. Look past the generic Tuscan landscape paintings, though, and you may notice that Mazara offers kick-ass service. The bar staff is friendly, knowledgeable and honest in their recommendations.
The pineapple martini -- an unexpected offering in an establishment that boasts "rustic Italian" cuisine -- is not overly sweet and has a pleasant creaminess. The food is decent but not jaw-droppingly memorable.
Why You'll Go Back: They are not officially included among the Happy Hour specials, but during lunch and dinner Monday through Thursday, Mazara offers a list of five wines priced at $5. These Italian wines are approachable, and not only in terms of price. If you're looking to try old-world Italian wines, Mazara's wine list is a great place to start.
The Verdict: Happy Hour at Mazara is a bit of a roller coaster, with peaks in the service, dips in the décor and twists and turns in the drink offerings. But every roller coaster deserves at least one ride, and Mazara likewise merits a whirl.