This is part two of Deborah Hyland's Chef's Choice profile of Matt Dawson of Brandt's Cafe. To read part one, click here. Part three, a recipe from Dawson, is published here.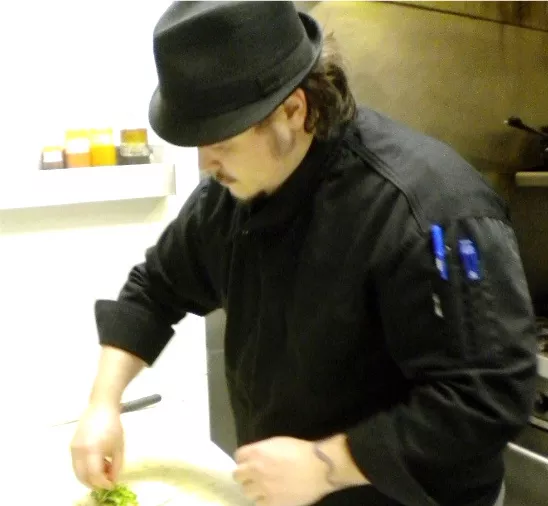 Deborah Hyland
Matt Dawson prepares duck tacos.
Did your family cook when you were a child? To be honest, not so much. I grew up poor, and dinners typically consisted of Hamburger Helper. As soon as I was old enough to see over the stove, I wanted to cook, just so I could start making better-tasting food.
How old were you when you started cooking? I think I made my first attempt when I was nine or ten. I started with simple things, but my creativity quickly got the better of me, and I would find myself throwing anything I could find in the kitchen together to see how it would taste.
First cooking job? My first cooking job was when I was fifteen and was at a Boston Market. I was the guy who worked the rotisserie and carved the chicken. From there, I bounced around a lot like most teens did, working whatever kitchen job I could.
Did you attend culinary school or college? Yes, I did. I graduated [from] L'Ecole Culinaire over off Highway 40
What do you eat? I think the better question is, what don't I eat? I'm not sure if there is an answer to that question. I eat pretty much everything and love to experiment with new combinations. My happiest days tend to be when I discover a new way to make my favorite recipes or a new ingredient to reinvent something I've been playing around with for years.
What do you cook at home? I'm a steak-and-fries guy at home. Nothing makes me happier than to sit down with a fat ribeye, a big plate of crispy fries and a fried egg on top. And a nice bottle of Bordeaux, too.
What are your three favorite restaurants in St. Louis (besides your own!)? Niche, Monarch and Five Bistro.
The local chef who most impresses you? I'd have to say Gerard Craft. The guy's just impressive, and every time I go to Niche, I find yet another yummy thing I just can't help but love.
Your favorite restaurant elsewhere? Easily, my favorite would be Charlie Trotter's in Chicago.
Your favorite food city? New York first, and then Chicago. Both cities make the biggest headway in the world of food.
Favorite recent food find? I recently discovered eggs poached in duck fat. Amazingly tasty, and such a simple idea.
Most essential ingredient in your kitchen? Passion. You can have the best, most expensive ingredients in the world, but if you are not passionate about what you are doing, then your food just tastes flat. And salt, of course. Can't survive in life without a little salt. Favorite local food find, and where do you get it? Morel mushrooms. I love everything about them. They even grow in my backyard every couple of years. I love to go foraging for morels every year.
Five words to describe your food. Fun, flavorful, seasonal, artistic and jazzy.
One food you dislike. Wilted greens. I hate it when I order a salad, and half the greens are wilted and limp.
A food you can't live without. Garlic! The world would be a dark and gloomy place without garlic. And the vampires might get us all if we didn't have garlic!
An ingredient never allowed in your kitchen. Iceberg lettuce. I can't stand it. Tasteless and full of water. A salad needs to be composed of good greens and not a filler like iceberg.
Culinarily speaking, St. Louis needs more... Mad scientist chefs and more artistic chefs. It's those crazy innovators and experimenters who bring out the best.
Best tip for home cooks. Don't be afraid to try new things. The best way to discover a new favorite is to just start throwing things together and see how it turns out. Even the simplest ingredients can be made to taste extraordinary with just a little love and creativity.
Favorite after-work hangout. I love Trailhead in St. Charles. Microbreweries are my late-night hangout spots, and Trailhead is a St. Charles classic.
Favorite kitchen tool. My mandoline. I think I would be lost without it.
What's next for you? I don't know. I want to stick around the city for a while and see what happens. I love being in St. Louis, and University City in particular is a great city to work in.
What inspires you? Music is where I get my inspiration. Come in my kitchen during the day and you'd typically hear me singing along with my iPod, jamming to whatever I downloaded the previous night.
Chefs who inspire you. Gerard Craft, Charlie Trotter and Michael Symon are my current inspiration. I am always looking for someone new to show me the next big thing.
Favorite cookbooks? Anything by Charlie Trotter. I have most of them and reread them at least once a month.
Proudest professional moment? Every time a customer calls me to their table and tells me that their dinner was the best they ever had. I'm always walking on clouds for the rest of the day whenever that happens.
Favorite music to have in the kitchen. Jazz, blues, rock, whatever. I have pretty eclectic tastes and change my music up often. I do tend to play Dave Matthews a lot, though.
What's on your pizza? Pepperoni, mushrooms, red onions and bacon. On thin crust.
What's in your omelet? Spinach, goat cheese, mushrooms, roasted garlic and roasted red peppers.
What are you drinking? Depends on the night. Wine, mostly, preferably a good Bordeaux. If not wine, then a single malt Scotch.
What's the most difficult lesson you've learned in this business? Never, ever, ever burn bridges. This town is built on relationships, and we all feed off of one another. Keep your friendships, partnerships and relationships always positive, 'cause you never know when you might need something or someone.
When did you know the chef's life was for you? I've pretty much always known. It's the first thing I want to do when I wake up, and the last thing I want to do when I go to bed. I cannot imagine myself doing anything else.