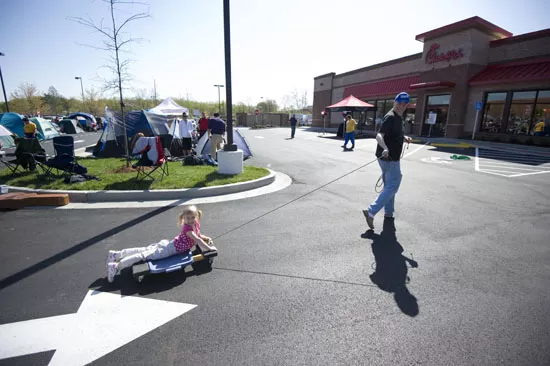 Chick-fil-A may be unlike any other fast-food restaurant when it comes to opening new stores. With each new location that crops up across the nation, a crowd of loyal customers is sure to gather -- and camp out 24 hours prior to the premiere. This applies to the newest Missouri location in St. Peters.
And we're not talking locals, or commuters from St. Louis. We're talking everywhere.
The grand openings draw a cult-like following that's a culture unto itself. Sure, there's the draw of being one of the first 100 in line, which wins you free Chick for a year (see details on the Chick-fil-A website.)
But for many it's a tradition.
"This is the third First-100 Openings we've been to," says Ben Perry, of Olathe, Kansas. Along with his wife, Becca, and kids Joshua (age six) and Katherine (four) -- the youngest is staying with grandparents -- Perry set out from home at 1:30 this morning. When the family arrived just after five a.m., there were already about 50 people in line.
Perry learned of the grand openings from friends in Ohio two years ago. They briefed Perry on what to pack in the survival kit -- tent, food, entertainment.
"They're so family-friendly," Perry says of Chick-fil-A. "In a day and age where everything is 24/7, they let people stay home on Sundays and go to church. Plus the food is really good."
His family lives six blocks from a Chick-fil-A, and Perry says they dine there once or twice a week. Last week he took his daughter to their hometown location's "Daddy-Daughter Day," which incorporates a carriage ride with a woman dressed as Cinderella and mock white-linen tablecloths in the restaurant.
Kholood Eid
Whiling away a spring morning, playing Golden Tee and camping outside a soon-to-open Chick-fil-A.
Also in line are brothers Cody, Drew and Shay Brown, who, along with their friend Brian Wilcox, pass the time in the Chick-fil-A drive-thru playing the Golden Tee on a machine they spent the past two days assembling for the occasion.
"We're getting more and more comfortable here," says Drew Brown, who lives in Florissant.
For all but Shay, who's experiencing the ritual for the first time, this is the group's fourth First 100. The trio even braved the Des Peres grand opening in February, which transpired in the midst of a snowstorm.
"Cold," Wilcox says of the Des Peres campout. "Bitter."
Was it worth it?
"Clearly," says Wilcox. "You ever eat at Chick-fil-A?"
Others who endured the snowpocalypse -- a storm so severe that Chick-fil-A wound up letting customers in early -- are here too.
"It was a little cold early on," allows David Breed of St. Louis. "We were sitting at a table for five hours." We played games." For this opening Breed brought his wife. Their son set up a tent across the parking lot.
Damon Tackett of southern Illinois and girlfriend Lacy Wagner are hardcore fellow travelers. "Farthest one I went to was seventeen hours, to Killeen, Texas," says Tackett.
This will be Tackett's 15th First.
The St. Peters Chick-fil-A location, at 6190 Mid Rivers Mall Drive, opens tomorrow morning.