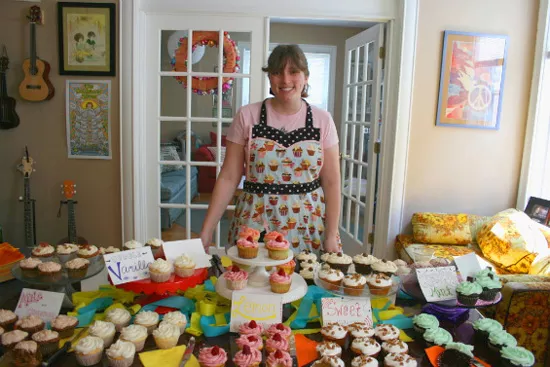 Chrissy Wilmes
Kaylen Wissinger with a sampling of Farm Fresh Cupcakes in her south-city home.
This past weekend, while most St. Louisans were basking in the short window of beautifully warm-but-not-yet-unbearably humid springtime weather, an apron-clad Kaylen Wissinger lovingly baked dozens upon dozens of cupcakes in her hot south St. Louis kitchen.
Wissinger was preparing for a launch of Farm Fresh Cupcakes, her own bakery brand for cupcake catering. She opened her home up on Saturday afternoon to a cupcake tasting and meet-and-greet, and her wide array of original offerings attested to her toil.
Wissinger's creations include classics with modern twists, as well as original creations. She tops a zucchini-bread cupcake with a tangy cream-cheese icing; a yellow buttermilk cake with a strawberry icing made with whole, fresh strawberries; a chocolate cupcake with a mint icing so zesty it summons thoughts of mojitos.
Chrissy Wilmes
Sweet-potato treats from Farm Fresh Cupcakes.
Then there are the originals: sweet-potato cupcakes that are nearly as soft as the traditional mashed things and have just enough cinnamon and sweetness to recall the natural flavor. Wissinger smartly tops these cakes with pecans, the perfect complement.
The malt-ball cupcake is fascinating and tasty. The texture would seem to be the distinctive trait of the malt ball, but the flavor translates perfectly into cake form despite the softness of the snack.
Wissinger says Farm Fresh Cupcakes will soon be available at farmers' markets about town, as well as at special events, such as LouFest. Is there a better way to listen to jams in your city's back yard than while chowing down on a locally baked cake -- and chasing it with a local beer? Gut Check thinks not.