Welcome to Lunch Bucket List, a new recurring feature in which Gut Check checks out the many lunch specials available at restaurants around town. Know a lunch special we should check out? Drop us a line.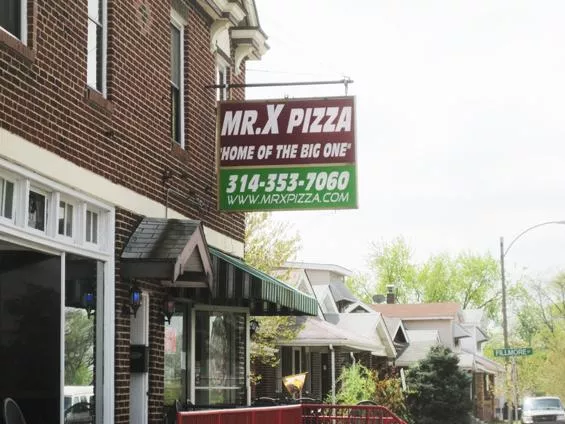 Ian Froeb
Mr. X Pizza on Morgan Ford Road in south city
The Place
:
Mr. X Pizza
(5922 Morgan Ford Road; 314-353-7060), a funky little south-city pizzeria and coffee shop.
The Deal
: A salad and a ten-inch, one-topping pizza for $6.99.
Ian Froeb
The salad half of the lunch deal at Mr. X Pizza
At some restaurants, you might pay $6.99 for a salad this big. The composition is unremarkable -- iceberg lettuce, tomato, red onion and cheese -- but the vegetables were fresh and crisp, and there certainly was enough of everything. Your choice of dressing (Italian or ranch) is served on the side.
Ian Froeb
The pizza half of the Mr. X Pizza lunch special
The crust of the pizza is St. Louis-thin, but this isn't a St. Louis-style pie. The cheese is a thick layer of nicely blistered mozzarella, with a generous topping of pepperoni (my choice) scattered throughout it. The sauce is a little sweet, but not terribly so. As with the salad, the pizza by itself is more than enough food for one person.
The Verdict
: Though neither the salad nor the pizza is especially memorable, both are tasty, and you certainly get more than your $6.99's worth. A judicious eater could probably make a second lunch from the leftovers.