Gut Check loves us some wine. We want a bottle with bang and a bang for our buck, so every week we will visit a local wine shop, where the experts will recommend a good-value wine priced under $15. We'll drink some and tell you wether we want to continue -- because the only time Gut Check has our nose in the air is while we're draining our glass.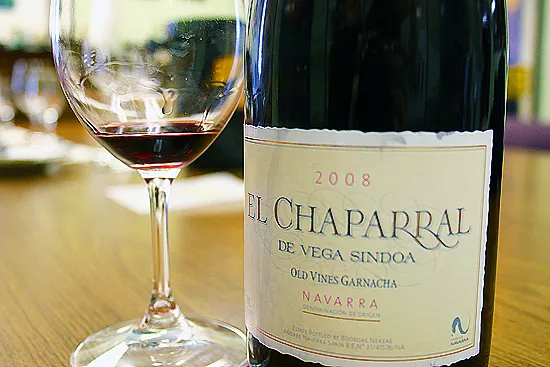 Katie Moulton
Class is in session! The subject? Drankin'.
This week, Gut Check got schooled in Spanish class. We visited the Wine Merchant (20 South Hanley Road, 314-863-6282), where the extremely knowledgeable staff teach courses on wine, cheese and cocktails four nights a week. Next Tuesday, April 12, the shop will host a class called, "Spain Best Buys Under $15" -- a title that could easily apply to the wine we tasted: the 2008 Vega Sindoa El Chaparral Grenache for $13.99.
The Clayton campus set us up in a tutorial with Phil Peimann, who got into the wine game ten years ago via restaurant work at Remy's Kitchen and Wine Bar and Big Sky Cafe. He began working at the Wine Merchant two-and-a-half years ago because he found he could "change it up" and has a "broader opportunity for tasting" in the retail setting.
"I try to calm people's fears," Peimann says. "To show them that wine tasting isn't so random."
But come on, Phil, pencil shavings? The instructor insists it is possible to pick up scents that seem to have no bearing on fermented grapes -- and we go back to behaving ourselves. "You'll see when the department stores start putting out the leather coats -- it's a distinctive smell. And there's no other way to describe it," Peimann says, when you find its counterpoint in a glass of red.
"Make connections you wouldn't normally make," Peimann says. At some point, all of us will have the experience of passing a woman in a hallway, he says for example, and a whiff of her perfume smells exactly like the scent our grandmother wore. The key, Peimann says, is to look for sensations that remind you of something you already know.
So what about this bottle? We're ready to learn!
Katie Moulton
Wine school supplies: bottle, glass and bucket. Glass and bucket optional.
The Vega Sindoa El Chaparral Grenache is made in Navarra, Spain, a northeastern wine-growing region that lies between the more famous La Rioja region and the French border. The region includes the city of Pamplona, and features proximity to the Pyrenees mountains as well as the wine-growers on the other side of that border: Bordeaux. It's Basque country, the landscape Hemingway immortalized in For Whom The Bell Tolls, a rugged, independent place where regular people face down danger in the form of rampaging bulls. And yet the wine goes down easy.
The distributor, Jorge Ordonez, according to Peimann, has this reputation: "If you see his name on the back of a bottle, you're pretty much guaranteed a high-quality value." The grower, it seems, was born from the merger of two families - Vega and Sindoa - who decided to team up and do quality control back when the whole area was a co-op, with everyone dumping their grapes together to produce a generic red wine. The Vega and Sindoa clans got wise and started doing it better.
The Wine Merchant chose to spotlight the El Chaparral Grenache because it's "lighter in weight, but not in flavor, good for spring and summer." Of course, it also goes with food, but pairs with more than barbecue: duck, lamb, even blackened tuna.
Apparently this versatility is due to the grape, the Grenache, or Garnacha in Spanish, which is the only kind used in this bottle. The same grape is used predominantly in Chateauneuf-du-Pape in the southern Rhone region, and the staff remarked a few times that this bottle tasted like a "baby" Chateauneuf-du-Pape. Unfamiliar, we were told this was a very favorable comparison, as the Chateauneuf-du-Pape is much more expensive.
While we waited for the El Chaparral to "open up," we received quick-fire lessons from Peimann:
This wine is apparently made from vines 60-100 years old. What's up with that. "Older vines typically produce fewer bunches with smaller fruit," Peimann says. "That smaller fruit has a more concentrated flavor."
Red fruit and dark fruit -- what's the diff? "Red fruit includes cherry, strawberry -- that bright red flavor. Dark fruits are black currant, plums. Black cherry bridges the gap."
Cork or screw cap? Screw cap all the way. "If ten percent of Coca-Cola's product went bad every year, I think they would do something to fix that, right?"
Tips for a better wine-drinking experience? "The 30-minute rule: Pull whites out of the refrigerator 20-30 minutes before serving, because when whites are too cold, you can't taste anything else," Peimann says. "Put reds in the fridge 20-30 minutes before serving, because if a red is too warm, the first things you pick up are tannins and alcohol. And that's not very pleasant."
Time to taste! But what do the experts say?
The Vega Sindoa El Chaparral Grenache totally seduced Stephen Tanzer's International Wine Cellar because it's so "sexy" with its "exotically perfumed bouquet" and "bitter chocolate framed by silky tannins." Aye muy caliente! What can you say? El Chaparral's not a player -- it just scores a lot: about 90 points.
What can professor Peimann tell us? After noting the rich, purply color (what Tanzer called "inky ruby"), he mentions cherry and black raspberry, a "hint of fresh herbs and flowers," and white pepper in the nose.
Upon tasting, Peimann's palate picks up more oak and spice, a medium weight and "good acidity." He describes as "moderate" both the tannins and the "length of the finish," which means he's still tasting the wine on his tongue for 10-15 seconds after spitting or swallowing.
We don't know what color the pepper is, but we're picking up what he's putting down. The wine is so balanced with red and dark fruit and spice, it bridges all the descriptors. It's not one way - too sweet - or the other - too bitter or dry, and so manages to be everything at once.
Gut Check's (spit-) take? This is a very respectable, A-grade wine, whose flavor kept evolving as we sat, discussed and drank. It may be our favorite so far, and we'd be proud to share the report card of this "Wednesday wine" with anyone, any day of the week.
Tonight, Friday, April 8, the Wine Merchant hosts a class on "Vintage Cocktails: The Classics." This Saturday, April 9, however, is the big event: from 12-4 p.m., for $10, customers will be able to taste 60 different wines and discuss with the staff and distributors.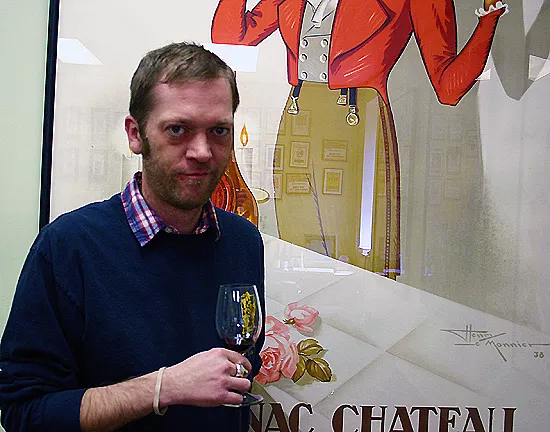 Katie Moulton
Phil Peimann, one of your esteemed faculty at the Wine Merchant.