Welcome to Girl Walks into a Bar, a weekly Gut Check feature that spotlights local bars and bartenders. This week Chrissy Wilmes profiles HandleBar bartender Keeley McGrew. Below is a Q&A with McGrew, followed by the recipe for a Hot Taty, her reimagined vesion of the classic Hot Toddy.
Chrissy Wilmes
Keeley McGrew poses proudly between two rows of strictly St. Louis taps.
Keeley McGrew is not merely a bartender. Her official title at HandleBar (4127 Manchester Avenue; 314-652-2212) is "Director of Inebriation," and she takes that (as well as her unofficial "In-House Beer Nerd" title) very seriously.
The 26-year-old enjoys a good bike ride and a hoppy brew. As evidenced by her fleur-de-lis earrings and her excitement over local craft beers, she's also pretty proud of her city.
McGrew comes from a small town near Springfield called Wheatfield, Missouri. She moved to St. Louis seven years ago, and spent some time working at the City Museum. There she met Tatyana Telnikova, who later asked her to come be the "beer girl" at HandleBar.
McGrew took some time out of a busy shift to talk to Gut Check in the Grove hot spot's spacious outdoor-seating area (expected to be open to the public sometime in mid-April) about her favorite moments tending bar and being the "Rachael Ray of Beer."
Describe your bartending style in three words: Friendly, energetic and geeky. I'm a beer geek, for sure.
My bar is the only bar in St. Louis where... You can have a local craft beer to cool off after riding a tall bike.
Girl walks into a bar and orders a _______. She has just earned your undying admiration. Fill in the blank. Hmmm, definitely a beer, definitely local. Whatever I have on tap from Second Shift.
What is the most dumbass drink anyone has ever asked for? I'm not a cocktail bartender, so I've gotten some really interesting cocktails thrown at me, that I'm just kinda like "I think you made that up in your kitchen." It was the answer last week, but honestly a Bud Light, sometimes. It's just like, "I'm standing here! Ask me a question!"
Chrissy Wilmes
Keeley juices a lime for a Hot Taty.
Other than your own bar, where do you go to get a good drink, and what do you have? After work I'm always in a Grove bar. A lot of times we'll head over to Atomic [Cowboy]. Otherwise one of the tasting rooms: Cicero's, Schlafly, Urban Chestnut, wherever. Always the hoppiest thing I can find, usually draft.
If my friends and I simply must have a round of shots, what should we have? I'm not picky. I like shots. Guilty-pleasure shot: My sister and I always do red-headed sluts. I know they're awful, but that's what my sister and I do.
Best/worst/most exciting thing you've ever witnessed at your bar. This bar is so chill, really, nothing too bad. Best and worst, the only bar fight we've ever had was [between] two hippie girls. And I didn't catch quite what the fight was, but it was "you bitch!" "YOU bitch!" One was pulling the other one's dreadlock. It was pretty fantastic. Our door guy was laughing too hard to break it up. It's the only bar fight we've had in eight months.
What's the best line someone's used to get a free drink? I'm not sure he was after free drinks, but there was a guy who, after I started speaking beer nerd, proposed to me and then told me that he knew a television executive out in California, and that I needed to be the Rachael Ray of beer. That was fantastic.
Best hangover cure? [points to her can of Red Bull] Red Bull and something greasy.
Tell us something about bartending that people probably don't know. We don't hate our jobs as much as people think we do. I think everyone thinks you're secretly resentful. Like there are the College Humor "The Bartender Hates You" videos. I throw a party every night for a living. That's awesome.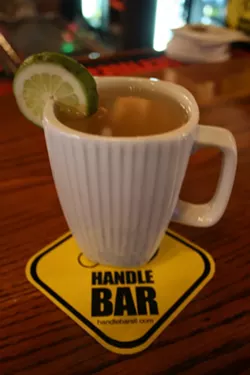 Chrissy Wilmes
"Hot Taty"
Hot Taty
1 oz. simple syrup 1/2 oz. coconut rum 1-1/2 oz. 85 Lashes rum Juice of half a lime Hot water
Mix first four ingredients in a shaker.
Add hot water to top of glass.
Serve with lime wedge.
Postscript: McGrew playfully asked her five-year-old son, Dalton, what drink she should make for RFT. He said, "You should make something with honey and lemon." That reminded McGrew of the Hot Taty (renamed after bar owner Tatyana Telnikova).
Dalton himself was recently featured in Riverfront Times, by the way: He's the crowd-surfing kid from the Aquabats' St. Louis show who made headlines on TMZ and won an RFT Web Award.