It has been a busy week for federal agencies that try to keep bugs out of the food supply.
This week the U.S. Food and Drug Administration debuted a revamped website that provides food-recall information to consumers. The previous website was so bad that improvements were mandated by the Food Safety Modernization Act, which Congress passed in January.
Let's take a look at the snazzy new format!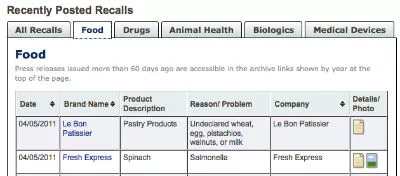 Well, lookie there: Spinach and pastries have magically appeared in easy-to-read fashion -- and so timely, too!
The Le Bon Patissier recall applies to pastries sold in California that didn't have allergens declared on the package. The spinach recall applies to 2,939 cases of 9-ounce bags of Fresh Express spinach that was shipped to the East Coast. A random sample of the spinach indicated possible salmonella contamination.
While this wouldn't help the spinach and pastries, the Department of Agriculture has proposed a new policy for meat and poultry processors to slow the spread of contaminants. They can't ship their products until lab tests on the meat come back clean.
These items are already tested per USDA policy, but previously producers were able to ship products before test results were in. According the the Washington Post, 44 meat recalls could have been prevented in 2007 had this policy been in place.
What happens if the government shuts down this weekend? Not much, according to the Los Angeles Times. What the government closes is based on what's "necessary for safety of life or protection of property." Food inspections and the federal school-lunch program shouldn't be interrupted.