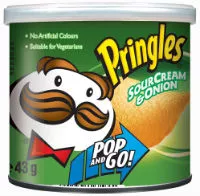 larryfire.wordpress.com
And go they shall...to Diamond Foods.
An era ended this week when Procter & Gamble sold Pringles to Diamond Foods for $2.35 billion. For the first time since the mid-1860s when they got big on making lard, P&G is out of the food game.
As they pass from the kitchen and into the bathroom, where they're focusing their resources on health and beauty products, let's look back on the foods that help make Procter & Gamble the mega-corporation that once had the whole country thinking they were Satan worshipers.
Crisco Shortening, 1911 - 2002 One hundred years ago, P&G moved beyond the lard that established their company and created the first vegetable shortening as a cheaper alternative to animal fat and butter. How did they work this magic? Hydrogenation! The process that allows fats to remain solid and would send Americans into a heart disease panic around the same time P&G sold Crisco to Smucker's in 2002.
Golden Fluffo Shortening, 1955 - ? It's shortening, but it's yellow! Yellow like butter, but without the strong, harsh, buttery flavor! It's the shortening of the future! Even newsman Mike Wallace - yeah, that guy's still alive - said it was awesome! But somewhere down the line, it fell out of favor, disappearing from the grocery landscape without so much as a greasy yellow trail.
Duncan Hines, 1956 - 2002 What about people who don't care about making foods that involve shortening, yellow or otherwise? Not everyone has the time or skill to construct epic cakes, even if it is the fifties. So P&G bought Duncan Hines in 1957, a year after ol' Duncan sold his name to Nebraska Consolodated Mills for their new line of cake mixes. In 1997 P&G ditched Duncan Hines to Aurora Foods, which has since become Pinnacle Foods.
Big Top Peanut Butter, 1955 - 1958 When P&G bought W.T. Young Foods, they also got Big Top Peanut Butter. It was like other peanut butter, but with character actor Eddie Bracken, bad scenery, and handsome glassware. It soon morphed into Jif, which was sold to Smucker's. Because choosy moms don't let their kids hang out with Eddie Bracken. High Point Instant Decaffeinated Coffee, 1975-1993 P&G had to keep up with Sanka, Kraft's instant decaf coffee, in the 1970s. Back then people got their jittery energy from piles of blow snorted in nightclub bathrooms, not from devil caffeine. Who needs it? Lauren Bacall certainly didn't, as she demonstrated in many commercials for P&G's High Point decaf instant coffee. Watch as she makes a decaf instant coffee bong!
Citrus Hill Orange Juice, 1983 - 1992 In the early '80s, P&G bought a company in Florida. Why not? Except when you buy a company in Florida, you have to find a use for oranges. Thus, Citrus Hill was born. And it was a problem child, mainly because someone got the great idea to rebrand it as "Citrus Hill Fresh Select", despite a small note on the carton noting it was really from concentrate. In 1991, thousands of gallons of the juice were seized, based on accusations of false advertising. Eventually Pepsi licensed the brand and used the name for a short-lived line of fruit-flavored beverages. Which weren't fresh.
Torengos, 2001 - 2003 Americans love their processed Pringles, so why not do the same thing with corn chips? Thus, Torengos were born. Processed corn, pressed into triangles, sold in a triangular canister. But they didn't last. While we love our saddle-shaped chips made from potato paste, we just weren't having it in corn form. Not only were Torengos pulled from the market after a mere two years, but nary a commercial can be found to prove Procter & Gamble's folly. Surely the Torengos ads couldn't have been as ridiculous as Pringles' introduction in 1973: