Update
(Tuesday, April 5, 11:40 a.m.): Gut Check just spoke ever so briefly with a very, very busy
Kevin Willmann
, who confirms that he's in New York City for today's unveiling of
Food & Wine
magazine's Best New Chefs 2011.
Willmann is the second area chef to win the award, following
Gerard Craft
of
Niche
in 2008. Expect the official announcement around 4 p.m. our time. More to come.
---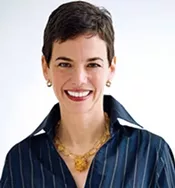 That cagey minx! Food & Wine magazine editor Dana Cowin is at it again, Tweeting her Best New Chef clues
As is her custom,
Food & Wine
editor Dana Cowin has spent the day
Tweeting
"clues" to the magazine's choices for the ten Best New Chefs of 2011.
Clue no. 9, which Cowin Tweeted earlier this evening:
Hmmmm. Bearded chef? Ozark Homestead?
We know that guy!
Gut Check is willing to bet the farmhouse that the winner is St. Louis' very own Kevin Willmann, the chef behind Best New Restaurant Farmhaus in south St. Louis.
Jennifer Silverberg
Kevin Willmann, owner and chef of Farmhaus, pictured here with fiancée and front-of-house manager, Jessica Hanzlick, is, we're pretty certain, Food & Wine magazine's 2011 Best New Chef - Midwest
We put in a call to Willmann, who, we're guessing, is too busy basking in the limelight in New York in anticipation of tomorrow's official unveiling of the roster of Food & Wine Best New Chefs 2011.