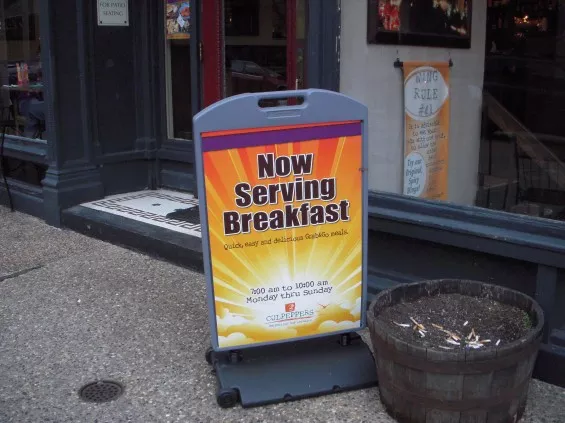 Culpepper's added a breakfast counter service on March 28.

You can add the Central West End location of Culpepper's to the list of eateries adding breakfast hours -- a trend we'd attribute to the fact that, in this still-slouching economy, everybody's trying to eek out every last cent of profit.

The restaurant, at the bustling corner of Euclid and Maryland, usually features table service from 11 a.m. 'til 1 a.m. But last Monday, it unveiled a new breakfast option where patrons can grab ready-made sandwiches and pastries from the counter. The cashier also takes orders for three meals cooked to order: biscuits & gravy, a Southwest sausage burrito or a Southwest chicken burrito. At $3.95, the burritos are the most expensive thing on the menu.

The CWE Culpepper's referred all questions about the new service to its corporate office, which we subsequently barraged with phone calls. (The chain is based here in St. Louis, with all six locations in the area.) We never got a response, so we can't tell you whether they plan to roll out this option at any of their other locations -- or what, precisely, prompted the new offering.

But we can tell you that the Grab & Go sandwich we tried, sadly, was a bit of a mixed bag.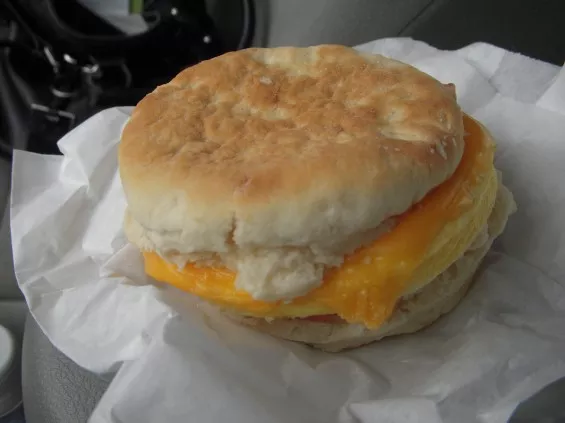 For $2.69, you get a biscuit, an egg patty and some thin strips of bacon.

Yes, the biscuit was lovely -- a flaky, slightly salty affair that crumbled all over our fingers, like a good biscuit should. But the egg appeared to be one of those scrambled egg patties you get at Burger King -- we suspect it came frozen. It didn't have the taste of a freshly cooked egg, much less the texture.

For $2.69, plus ten cents for the parking meter, we'd probably have been better off just going through the drive-through.