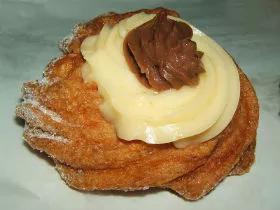 Wikipedia
Lovely, deadly zeppole.
One person is dead and at least 38 have become ill - 24 hospitalized - from salmonella in pastries sold by a Johnston, Rhode Island bakery.
Food Safety News reports that those infected all consumed zeppole made by DeFusco's Bakery. The pastries were sold in several bakeries and catered to churches and senior centers. The man who succumbed was 83 years old.
Upon inspection, health officials found pastry cream, which is loaded with egg, stored at room temperature. Pastry shells were being stored in old egg crates.
Zeppole's traditionally eaten on March 19 to mark St. Joseph's Day. The Italian pastry's usually fried pastry shells with fillings.
The only way to make them more deadly? Fill them with cantaloupe.
Last week the Food Poison Journal said Del Monte recalled 23,000 pounds of cantaloupe sold at Costco stores. Seventeen people became ill after eating the infection melons.
This is the third time in three years Del Monte has recalled salmonella-tainted cantaloupes. So what's the deal with these sweet orange germ bombs?
Food Safety News explains that cantaloupes are most likely to be contaminated around harvest time, when they attract wild animals who poop near the crops, or in the water that irrigates them. And don't expect the Food Safety Modernization Act of 2011 to fix this problem:
...we can soon expect better regulation and better compliance on the part of producers, both foreign and domestic. However, the problem of contaminated melons will likely remain, due to the nature of the agricultural methods used and the nature of the plant itself.
Because of inedible rinds, melons aren't required to be washed in the packing process. Contamination occurs when a melon is sliced and bacteria from the rind is passed into the edible fruit. Salmonella can also be contracted when you handle and thump the melons in the store and don't wash your hand afterward.
Food Safety News recommends placing purchased cantaloupes in plastic bags at the store. Once home, wash the melon with warm water and a stiff-bristled brush. You can also soak it in diluted bleach water (seven drops of bleach per gallon of water) or use a commercial vegetable wash. Refrigerate the melon, then decontaminate your entire house as you would if you'd experienced a diseased chicken explosion.