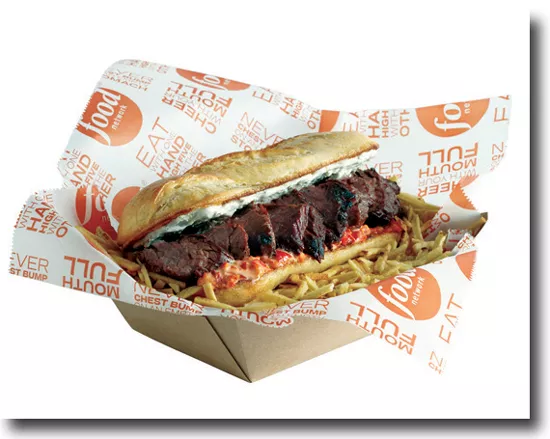 Food Network
Do not adjust your television set. This is a Food Network steak sandwich -- the Red, White and Blue Steak Sandwich, to be precise.
If there's one thing St. Louis Cardinals fans love, it's an all-star hunk of meat at on the plate. Tomorrow, on Busch Stadium's 2011 opening day, the Food Network will debut a food cart in Section 144, serving two "signature" steak sandwiches -- one of which is ostensibly fine-tuned specifically to St. Louisans' game-day palates.
In fact, the Food Network is expanding its local reach -- in partnership with Delaware North Companies Sportservice -- by launching food carts in nine major league baseball stadiums this summer. Each cart will serve the Food Network Signature Red, White and Blue Steak Sandwich, which press materials describe as "all-natural steak with Maytag blue cheese and a sweet and spicy peppadew pepper mayonnaise on a rustic roll."
The carts also offer a sandwich custom-made for the city in which it's served. What's on the St. Louis Sandwich? Is it muffuletta? Sausage smothered in Provel? A bed of toasted ravioli? No, no, no. Gut Check was a little disappointed to learn that the folks at Food Network failed to go with the St. Paul sandwich, though that may have proven confusing to Twins fans.
Turns out the St. Louis sandwich is also "all-natural steak" on a "rustic roll." In fact, all the signature city sandwiches except one are made with these two ingredients. Hm.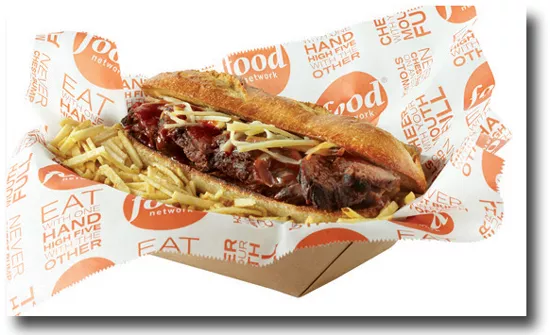 Food Network
Food Network's St. Louis steak sandwich, featuring barbecue sauce and cheddar cheese, because apparently St. Louis rolls like that.
Steak sandwiches are "an ideal fit for baseball and the type of twist on a traditional favorite that Food Network is known for," explains Glen White, a spokesman for Delaware North. "Plus, the steak sandwich is an All-American dish that can also be served to fit distinct regional tastes."
What differentiates each sandwich is its toppings, and for the Gateway to the West, it's "Saint Louis style BBQ sauce and cheddar cheese."
OK, Gut Check knows they're the Food Network and all, but how did they come up with cheddar cheese? And what constitutes "Saint Louis style BBQ sauce"?
Where was the St. Louis sandwich developed? In Food Network's New York City test kitchen, of course. Food Network's team of chefs collaborated with Jeramie Mitchell, Sportservice's food and beverage director at Busch Stadium (and formerly the stadium's executive chef).
The barbecue sauce, Mitchell informs us, has been served at Busch for six seasons and is the one most popular with fans. The chefs liked it, he says, because "it's got some sweetness, some smokiness and a little bit of spice." One snag. This "Saint Louis style" barbecue sauce, which bears the Sweet Baby Ray's label, is from -- you might want to shield your child's eyes with his little mitted hand -- Chicago.
"It's in the Midwest," Mitchell says defensively. "Just not the immediate vicinity.
"We also worked directly with the brewmaster at Anheuser-Busch," Mitchell quickly goes on, "to come up with three beverages that we felt complemented the flavor profile of the sandwich the best."
Pray tell! Those complementary beers are Budweiser American Ale, Shocktop -- and Goose Island Honker's Ale. (Unruffle your feathers, friends: as of Monday, Goose Island, the Chicago microbrew powerhouse, is part of the Anheuser-Busch family.)
We couldn't resist asking the chef: What's the deal with this "all-natural" steak stuff? What steak isn't "all-natural"?
"It's 100 percent tender, flavorful beef," says Mitchell. "The cut we use in the sandwich is called a culotte -- the most tender part off of the top sirloin."
That might explain the $14 price tag.
"We consider this one of our more upscale items, considering the cut of sirloin, and the collaboration with the expert chefs at the Food Network," Mitchell explains.
Let's tally up here, shall we...?
No local recipe, no local ingredients, not even local barbecue sauce (and St. Louisans know some sauce). Fourteen dollars a pop, when Gut Check could pack a soft-sided cooler with bounty from Pappy's? Looks like the home team wins again.
Feel free to hit the comments with your proposed St. Louis signature ballpark sandwich.
And finally, let's play a little game of Match the Ballpark with Its Food Network Signature Sandwich! 1. All-natural steak with Old Bay horseradish sauce on a rustic roll.
2. All-natural steak with tangy banana pepper mayonnaise and feta cheese on a rustic roll.
3. All-natural steak topped with bourbon spiked BBQ sauce and smoked cheddar cheese on a rustic roll.
4. Smoked bratwurst with horseradish cream; wild rice bratwurst with pickled red cabbage and beer mustard.
5. All-natural steak topped with sauerkraut and polish mustard on a rustic roll.
6. All-natural steak topped with a smoky charred salsa verde on a rustic roll.
7. All-natural steak doused with sharp and hoppy beer cheese on a rustic roll.
a. Camden Yards b. Great American Ballpark c. Progressive Field d. Comerica Park e. Miller Park f. Target Field g. Rangers Ballpark
(No fair Googling or clicking this top secret link!)