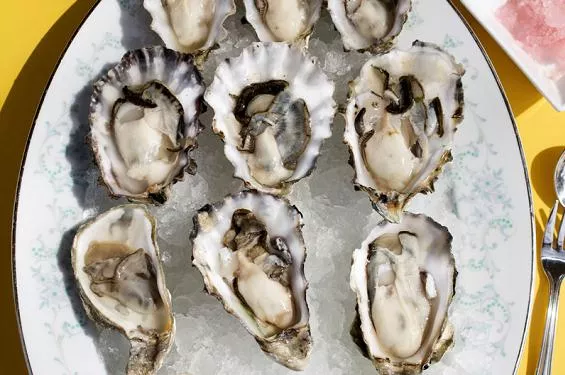 Jennifer Silverberg
Oysters on the half shell at DeMun Oyster Bar
This week I visit
DeMun Oyster Bar
(740 DeMun Avenue, Clayton; 314-725-0322)
, the gorgeous new oyster-centric restaurant in Clayton's DeMun neighborhood. It's a personal challenge as much as a review.
I'm probably the last person who should advise you about eating oysters. Nevertheless, I'm still going to recommend a visit to DeMun Oyster Bar.

A brief but necessary prologue: For the longest time, an unfortunate encounter with a scallop had me convinced I was allergic to shellfish. It took twenty years --and a career that veered into food writing -- to discover that a whiff, let alone a bite, of any bivalve wouldn't ruin a meal. Gradually I learned that not only could I eat each of these foods -- I loved them all.

All, that is, except oysters. The almost-still-living rawness of the creature. The way it glistens in its liquor within its freshly shucked shell. This mental block I couldn't evade. And I say this as someone who thinks nothing of ordering a taco filled with pig esophagus, or kitfo, an Ethiopian dish that is essentially a pile of spiced raw ground beef.

Visit
the RFT restaurant page
late tomorrow afternoon or check back here Wednesday morning to see what I think.