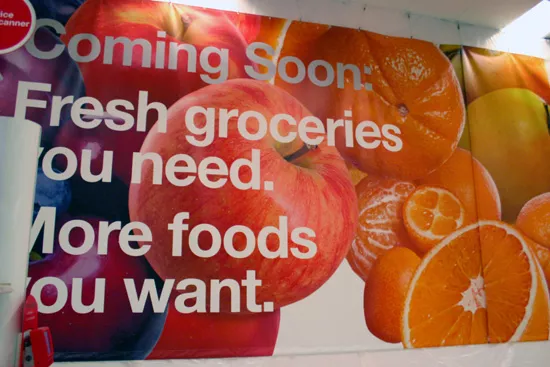 Target is going "P Fresh": sounds like a personal problem to us here at Gut Check, but the retailer isn't being shy - just a little coy - about its new store concept.
Next Sunday, March 27, three local Target stores will relaunch with the P Fresh concept, which features an expanded selection of fresh food. The Kirkwood, South County and Shiloh, Illinois locations have remained open during the three-month remodeling, but as newly-minted P Fresh stores, "guests will discover an inviting and open-market layout, including a curated assortment of fresh produce (e.g., bananas, seasonal fruit, berries, baby carrots and bagged lettuce), fresh packaged meat (e.g., ground beef, chicken and pork) and pre-packaged baked goods (e.g., dinner rolls and pies)," according to a Target spokesperson.
Katie Moulton
Target's Kirkwood location subtly suggests a "fresh" image.
The Minneapolis-based retailer is second only to Wal-Mart as the largest U.S. retailer with about 1,750 stores across the country and about 20 in the St. Louis metro area. By now catering to current consumer conscientiousness about fresh and locally-grown products, does Target have upscale grocers like Whole Foods in its crosshairs? The corporate spokesperson hedged when asked about how the P Fresh concept compares with competitors by saying that Target hopes to improve one-stop shopping convenience and that guests' requests for fresh food were the impetus for the restructuring.
The spokesperson was also noncommittal when asked if any food products sold at these P Fresh locations would be sourced locally, saying "assortments will vary by location and season." A local contact, who again must remain unnamed, told us that the produce will come from a Target-owned distribution center in Cedar Rapids, Iowa. Other than some local wines, the St. Louis stores will not carry products "specific to Missouri."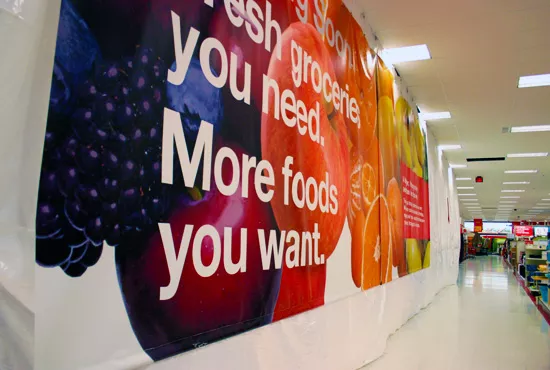 Katie Moulton
The Kirkwood Target awaits its P Fresh unveiling.
Hold your horses, you say, you've seen SuperTargets in Kansas City that sell groceries, so what's the diff? Though both store concepts feature private-label food brands Archer Farms and Market Pantry, as well as national brands, a SuperTarget includes a full-service supermarket, including an in-store bakery and deli and is much larger: approximately 186,000 square feet, while a typical Target general merchandise store is a downright cozy 135,000 square feet.
Target is beginning renovation on its Arnold and Bridgeton locations and expects to complete those projects over the next few months. Target plans to remodel 380 stores this year, totaling 850 P Fresh stores nation-wide by the end of 2011, and continuing from there. With fresh and frozen food taking up more aisle real estate, Target will also implement updates of the beauty, home, shoes and baby departments, which the spokesperson described with an emphasis on "broadened visibility" and more "inviting presentation."