This is part two of Chrissy Wilmes' Chef's Choice profile of Scott Truong of Pearl Cafe. Part one can be found here. Part three, a recipe from Truong, is here.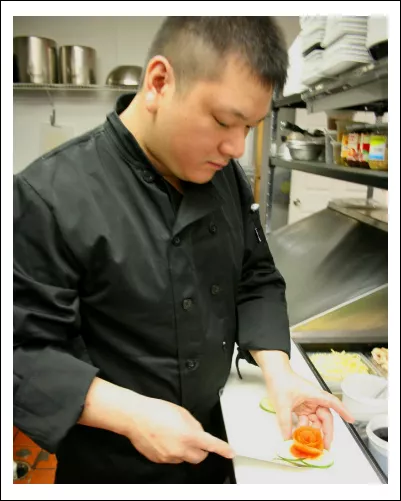 Chrissy Wilmes
Scott Truong fashions a tomato rose.
Did your family cook when you were a child? Yes, I came from a family of cooks and restaurateurs. Our family came to the U.S. in 1979. Our families were refugees and camped in China during the Vietnam War; the only source of income at the camp was our family's secret recipe for bún bò hué, passed down from generations of great cooks such as my maternal Grandma Mach and paternal Grandma Truong. My parents were street vendors, offering the best noodle bowl Asians know and love.
In the '80s, Grandma Truong and her many sons opened a Chinese restaurant infamously known to be called "chop suey" in the Midwest. The business is running strong to this day, and more extended from within our family.
How old were you when you started cooking? Our family started everyone off young. At the age of eight, I knew how to make the essentials: rice and eggs, any style -- you name it, I've cooked it.
First cooking job? Officially in 1993, at Grandma Truong's restaurant. I was about fourteen years old. Since it was a family business, our motto was as soon as you can walk, you can work. Needless to say, cooking and serving runs deep in the Truong and Mach bloodline.
Did you attend culinary school or college? I have the best teachers: my elders. I continue to learn and perfect my skills by listening and observing and attending most family gatherings, because that's when the best of the best chefs come out. We cook, and we eat the fruit of our labor!
What do you eat? I love all foods. I love food that has flavors that are unique and just bursting with a variety of spices from different countries. I just love trying new foods and trying to figure out how it's made, and what is the best way to use the spices.
What do you cook at home? I usually don't, because tradition has it that if there's a mother figure in the house, she's the head chef. I'm fortunate enough to have grandmothers, mother and aunties. My siblings and I have the luxury to sit back and reap the benefits, from all the peasant recipes to the most extravagant. It's always a lesson every time they cook; you just listen and observe.
What are your three favorite restaurants in St. Louis (besides your own!)? I really enjoy Asian foods in general -- Japanese, Korean, Vietnamese, Thai, Chinese -- they're all good. But sometimes I'll step outside the box and go for pizza, burgers, barbecue or mac & cheese. Sometime it's just nice to have classic American foods.
The local chef who most impresses you? Hands down, my family --Grandma, Mom, Dad, aunt and uncles, etc. -- who not only cook, but they love to eat as much as feed anyone who appreciates good cooking. Home-cooked meals are the best, no chain restaurants.
Chrissy Wilmes
Scott (left) and Tommy Truong in the entryway of their restaurant, Pearl Cafe in Florissant.
Your favorite restaurant elsewhere? Joy Yee's in Chicago, an Asian fusion restaurant.
Your favorite food city? Houston. Such a big Asian community, and so many great-tasting restaurants to learn from.
Most essential ingredient in your kitchen? It's a toss-up: Thai basil and fish sauce. Five words to describe your food: Spicy, sweet, sour, salty, bitter.
One food you dislike. Durian fruit.
A food you can't live without. RICE!
An ingredient never allowed in your kitchen. MSG.
Culinary speaking, St. Louis needs more... Adventurous people, willing to step outside the box.
Best tip for home cooks. Take your time and have fun with it.
Favorite after-work hangout. Home, hanging with my kids and family.
Favorite kitchen tool. A knife -- perfect cut makes for a perfect dish.
What's next for you? Having several apprentices, and opening two more restaurants.
What inspires you? Knowing that my customers left with a full stomach.
Chrissy Wilmes
Chef Scott Truong in his kitchen.
Chefs who inspire you. My mother and mother-in-law.
Proudest professional moment? Winning "Best Thai Restaurant 2010."
Favorite music to have in the kitchen. The sound of making food.
What's on your pizza? Believe it or not, I make pizza on a regular basis with Thai ingredients, such as curry, Thai chili, tom yum and peanut sauce.
What's in your omelet? Fish sauce.
What are you drinking? Hot tea.
What's the most difficult lesson you've learned in this business? Not everybody will appreciate or respect my cooking.
When did you know the chef's life was for you? It's in my bloodline. If I wasn't a professional chef, I'd be the head chef in my own home in my own kitchen.