Katie Moulton
Galati's Pizza Pasta Grill on Main Street, Foristell
Mauro Galati is bringing the Hill to Foristell. Where or what precisely, you inquire, is Foristell? Well, Gut Check trekked out to Galati's Pizza Pasta Grill (100 South Main Street, Foristell; 636-463-1020), perched on the line between St. Charles and Warren counties, to find out -- and in doing so we discovered an outpost of authentic, high-quality Italian cuisine.
The small brick ristorante is located 44.3 miles from the original Dominic's (5101 Wilson Avenue; 314-771-1632), where Roman-born owner and chef Mauro Galati cut his culinary teeth in the early '80s under his uncle Giovanni Dominic Galati. Galati returned to Rome to attend culinary school, then worked in restaurants in St. Charles and Washington, Missouri, before opening Galati's last July.
A grand opening celebration is slated to occur before the end of April.
According to Galati, the menu -- with most entrées priced under $15 -- is based on his own family's recipes, though you won't find most of this stuff on the menus of any of the Dominic's locations. This includes the Lasagna di Nonna Rosa -- Grandma Rosa's lasagna -- which is a lush stack of meat sauce with mozzarella, ricotta and a thick top-coat of breciamella sauce. Gut Check readily confesses that we don't know what "breciamella" is, but we're gonna guess it's kin to béchamel, a mainstay white sauce of French and Italian (where it's more commonly known as balsamella) dishes.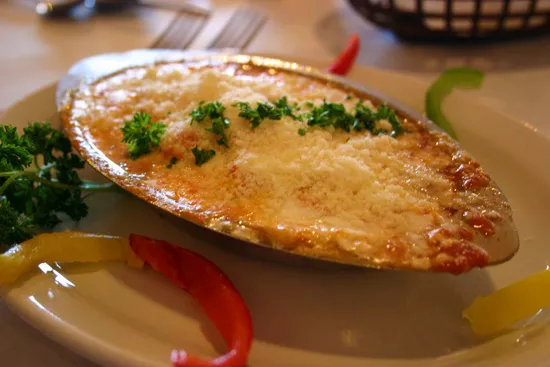 Katie Moulton
Smaller portion of Nonna Rosa's lasagna. Gut Check had to save room for the rest of the menu.
The menu states, "All pastas made fresh and within 10 minutes!" -- and we're not gonna argue; service on our visit during the off-hours of early evening was exceptionally fast and attentive. The tradition of keeping it in the family extended even to our waiter, Christian, Mauro's nephew, who left his job as a television cameraman in Rome to move to St. Louis six months ago, and who, from firsthand experience, could tell us how each dish is made. He recommended the Pennette al Salmone, which turned out to be our favorite dish -- soft chunks of smoked salmon and an addictive, slightly sweet pink sauce made with homemade marinara, cream, onions, parsley, Parmesan and a touch of ricotta.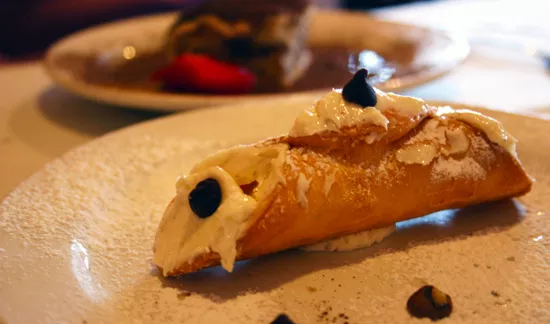 Katie Moulton
"Leave the gun. Take the cannoli." You can't refuse.
Another highlight was dessert, when for the sake of intensive research, Gut Check gorged ourself on sampled all three of Galati's offerings (priced, we're pleased to report, at under $5). Cannoli were classic, not too sweet though liberally snowed in confectioner's sugar, the shell crisp and not flimsy. Panna cotta (an eggless custard thickened with gelatin) was light, drizzled in waxy caramel and presented with strawberries. Our favorite, the tiramisu, was spongy and lighter than air, crop-dusted in cocoa powder with virtually no coffee flavor.
Katie Moulton
Mauro Galati, the man behind the marinara.
What Else We Ate:
- Salmon carpaccio: extremely thin-sliced smoked salmon zesty with lemon, red onion and olive oil
- Pepperoni pizza: classic with slightly-crispy bottom crust
- House salad: mixed greens with light-and-fresh olive oil-balsamic dressing
- Flash-fried artichoke, stuffed with crab meat, finished with red pepper and melted mozzarella
- Complimentary black olives and homemade garlic bread