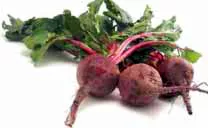 Wikimedia Commons
These beets won't kill you. Yet.
Beets are so often maligned that it's hard to imagine that they're pickled and processed in 105-ounce cans. Who knew there was such a pickled beet demand?
Well, that demand's going to go unmet for a bit. Lakeside Foods Inc. of Manitowoc, Wisconsin has recalled 3000 cases of 105-ounce cans of pickled beets that were sold to food service outlets in 18 states, including Missouri and Illinois, from Decemeber, 2009 through January, 2011. Which is quite a long time to be under-processing beet pickles. Because the cans were under-processed, there's a risk of botulism poisoning.
Might want to watch your serranos while you're at it. Melissa's/World Variety Produce Inc. has recalled 300 cases of bulk serrano peppers from Mexico for possible Salmonella contamination. The peppers were sold at Walmart stores in Wisconsin, Montana, Utah and Wyoming, and Jewel-Osco stores in Illinois.
No illnesses have been reported from the beets or peppers. The flaws were found through routine testing.