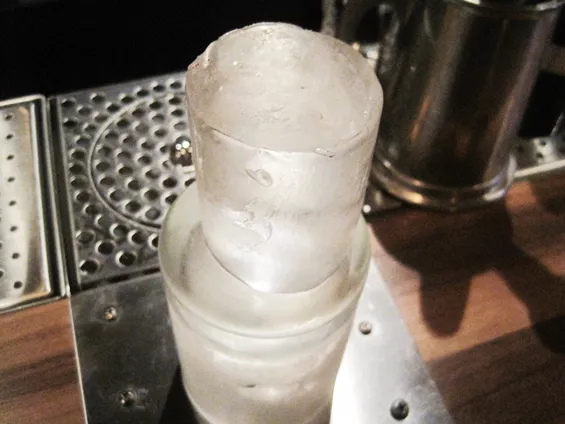 Ian Froeb
The ice cylinder at Taste
No restaurant review this week. Instead, a look at the coolest* development in mixology since the cocktail shaker:
As you peruse the cocktail menu at Taste, the restaurant and bar that opened earlier this month in the Central West End, you might be intrigued by the "Gold Coast Fizz," a concoction of whiskey, orange juice, cherry and walnut liqueurs, espresso syrup, egg white and soda. Or maybe the "Western Paradise" -- bourbon, apple brandy, Drambuie, vermouth and "cajun" bitters -- is more your style.

Whichever of Ted Kilgore's creations you choose, by night's end you might very well find yourself talking about the ice that the bartender extraordinaire uses.

Visit
the RFT restaurant page
late tomorrow afternoon or check back here Wednesday morning to learn more.
* - Sorry.