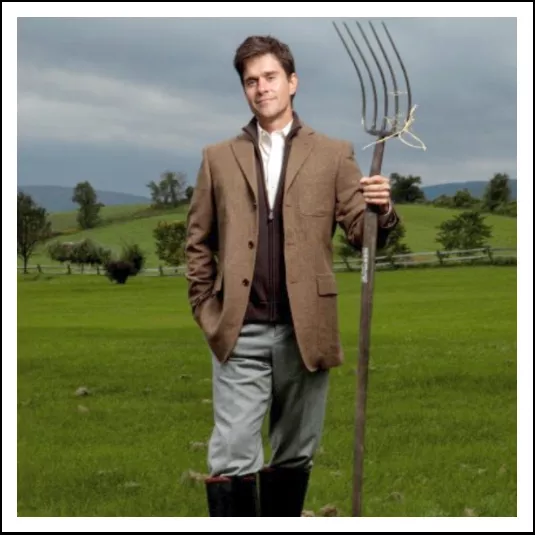 Green Beekman is the place to be.
A Manhattan couple -- one partner an advertising executive with a drag-queen past, the other an MBA and M.D. serving as a vice president at Martha Stewart Living Omnimedia, buy a 200-year-old farm -- the Beekman -- on a whim. Can they juggle city life and country life with learning the basics of sustainable farming, starting a goat milk-based business and keeping their relationship from withering?
Turns out they can, with the help of other farmers and their savvy in marketing and media.
Author Josh Kilmer-Purcell, the ad-exec half of the pair, tells the story of how he and partner Dr. Brent Ridge survived their first years as gentleman farmers at the Beekman 1802 Farm in his book, "The Bucolic Plague: How Two Manhattanites Became Gentlemen Farmers: An Unconventional Memoir", which will be available in paperback March 22.
That same day, Planet Green will debut season two of "The Fabulous Beekman Boys", a docu-series that follows the couple's life as the boys struggle to thrive as modern farmers using traditional techniques and living off what they raise.
Gut Check had the opportunity to speak with Dr. Ridge on the eve of the couple's tour to support the "World's Largest Community Garden."
Gut Check: How did the show get started?
Dr. Brent Ridge: When we first bought the farm, we started a blog just to keep our friends in the city updated, since we didn't get to see them on the weekends anymore. That grew into a website: beekman1802.com. We would send out monthly e-mail newsletters about what's going on at the farm, new products we were doing, things like that.
Laura Michalchyshyn, who is the president and GM of Planet Green, got on our newsletter list and sent us an e-mail and said, "We think what you're doing is really great. Would you come in and talk to us?" They also own treehugger.com, so we figured they just wanted us to blog for them or syndicate some of our blogs. But she said, "You know, you guys would make a great TV show. I'm going to put you in contact with World of Wonder" -- a production company in L.A. -- "and see if they can come up with a format for a show." And that's how it started.
What with your connection to Martha Stewart, had been any rumblings about doing a show through her company?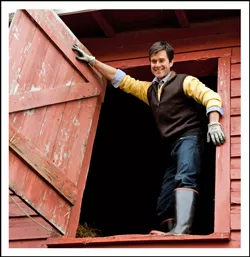 Not really. Both Josh and I lost our jobs in the recession, and we were about to lose the farm before the TV show came along.
How are you involved with the World's Biggest Community Garden?
In the fall of last year, we developed a project in conjunction with Sotheby's Auction House in New York City called The Art of Farming, where we auctioned off heirloom vegetables. You'll see that first auction in season two of the show. Shortly after that someone from Williams-Sonoma called and asked if we could think of a project to do with them in the gardening space. We want to educate more people about heirloom vegetables and why they're important. We do 110 different varieties of heirloom vegetables, so we went through all of those and we chose ten we thought would be easy for even a novice gardener to grow. We put these in a little kit that people can buy at Williams-Sonoma, called the Beekman 1802 Heirloom Garden.
Our goal is to get 10,000 people to grow the same heirloom vegetables we grow on the farm. They can e-mail us questions, share tips and get real-time advice about growing the vegetables. As people are starting to harvest, we're going to ask them to weigh all of the produce, and we're going to do a big tally so we can see that this project generated this many thousands pounds of food. It's a great learning opportunity for anybody who's ever had the faintest interest in gardening to really get in their and get their hands dirty, but also have someone there to hold their hand. Are you going to help participants learn how to use what they grow?
As we head into August and September, when people are doing the bulk of the harvesting, we're going to have people share their recipes, what they're cooking. We'll do canning and freezing and dehydrating. That all builds up to October, when we have the release of the very first cookbook from the farm.
[Josh and I] wrote it together. It's called The Heirloom Recipes Cookbook from Beekman 1802. We have 115 recipes that we thought are the recipes that everyone needs to have in their back pocket: the best macaroni & cheese recipe, the best meatloaf recipe, the best deviled egg recipe. People can adapt the recipes to their own family's liking, then come to our website and share how they adapted it. There are also pockets in the book where you can write down your family's own heirloom recipes that you're already passing down and include them, like a scrapbook, and then you can give the whole book to some who's just starting their home.
The Fabulous Beekman Boys: Josh Kilmer-Purcell and Dr. Brent Ridge.
The second episode of season two, with your trip through North Carolina [Ridge's home state] had me wondering: How has your family has reacted to the publicity and your change in career?
It's funny, because I think my parents had a tougher time when I left medicine to begin working with Martha than they did when I left Martha to become a farmer. People get to see the evolution of how my family is dealing with my and Josh's relationship in season two. It's a very telling episode.
And what happens with the sheep you purchase in that episode? I'm hoping there'll be some Beekman yarn involved.
Absolutely. We got the two new sheep and we shear them for the first time this spring. I want to learn how to spin. The winters up here are very long.
You're taking the most traditional profession in this country and showing how it's evolving.
That's a very good point. When we first started the farm, we thought, How are we going to make a go of this? Because small farms are going out of business left and right. So we started from the beginning saying \ we were going to build the world's first Internet-based farm. We get letters all the time from farmers who are learning how to market their farms and get people invested in their farms by watching what we're doing. If you've been on a small family farm your whole life, you've never had the experience of having people who understand marketing, or media, or social media, so you don't have that frame of reference. They're learning from what we're doing about how they can grow their own businesses, and we're thrilled with that.
While you await season two, here's a taste of some upcoming llama drama...