This is part two of Deborah Hyland's Chef's Choice profile of Jane Muscroft of Queen's Cuisine (qconline.us). Part one can be found here. Part three, a recipe from Muscroft, can be found here.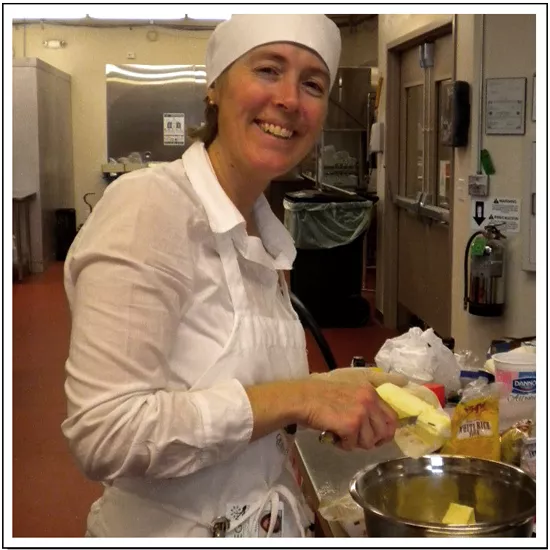 Did your family cook when you were a child? Oh yes. My mum cooked dinner every night: an entrée and a hot dessert like pie, a sponge or English custard. My dad still has an allotment, so we always had our own fresh produce as well.
How old were you when you started cooking? Quite young. We were allowed to make Yorkshire pudding of a Sunday as soon as we were old enough to stir. Tea as well, once we were old enough.
First cooking job? I worked as a hotel chef while still in catering school. It started as a work-study, and I just continued on. My first-ever job at fourteen was as a server at a small, family-owned café. I was allowed to ice the baked goods if I was very, very careful.
Did you attend culinary school or college? I went to catering college. I studied Home Ec in school; it was required for boys and girls, so there was no getting out of it. I loved it and considered being a Home Ec teacher. But as a teenager, I was painfully shy, and the thought of getting up in front of a room full of people....
What do you eat? Whatever I'm baking, which is why I put on half a stone each market season.
What do you cook at home? Mostly English-style, but it's gotten more Americanized. I still don't make burgers very often, but I don't make fish and chips very often either. Last night I made chili, which in England we would call chili con carne. I put cheese on top because that's what you do in America, but we ate it over rice, which is how we eat it in England. On Sundays we still have roast beef and Yorkshire pudding.
What are your three favorite restaurants in St. Louis? Saffron (we Brits like our Indian food!), Mango and the London Tea Room (to eat somebody else's baked goods for a change).
The local chef who most impresses you? I don't really move in those circles. Does that sound awful?
Your favorite restaurant elsewhere? Wherever I'm taken next Sunday. I'll be in England and it's my birthday. We're going out for roast beef and Yorkshire pudding, so I'd better like it.
Your favorite food city? London, without a question. It's the one I've eaten in the most. You can get anything you want there. My sister lives there and she never cooks. So when I visit, we eat out every day.
Favorite recent food find? Locally grown pumpkin. Up until the fall, I had never made a pumpkin pie from scratch. It's not nearly as scary as you think it's going to be. The hardest part is cutting it in half.
Most essential ingredient in your kitchen? Butter. Butter is not a dirty word. I go through about five pounds each baking day. That sounds a lot, but I always seem to be buying that much.
Favorite local food find -- and where do you get it? Tea, from Traveling Tea. I grew up drinking tea -- basic black tea out of a tea bag -- so I was skeptical. But Kateri [Meyer, the owner] has been teaching me the finer points of white and green teas.
Five words to describe your food. Fine English refreshments from scratch.
Bakewell tarts (pastry case, raspberry preserve with almond 'cake' filling and topped with icing) named after a town in Derbyshire, England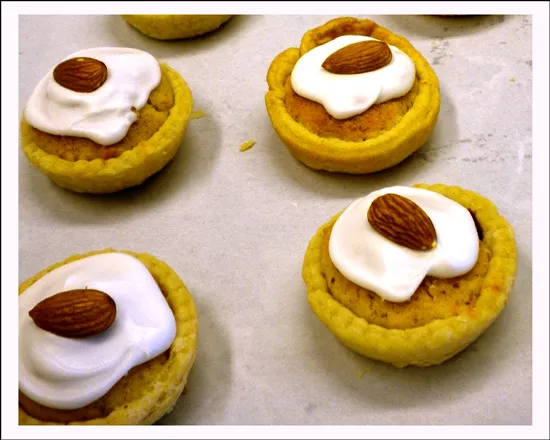 Deborah Hyland
Bakewell tarts (raspberry preserve with almond 'cake' filling, topped with icing) named after a town in Derbyshire, England.
One food you dislike. Chestnuts. I tried them in France from a street vendor, and they made me gag. It surprised me, because I love nuts, and I've never had that experience with anything else. There isn't much I don't like.
A food you can't live without. I have an Englishman's cappuccino for breakfast every morning -- that's milk warmed in the microwave with Nescafe added.
An ingredient never allowed in your kitchen. Crisco. Oh, and that awful non-dairy whipped cream that's never been near a cow and has coconuts in it.
Culinarily speaking, St. Louis needs more... I think St. Louis is doing a good job already. There are lots of small-owned places as well as great magazines and newspapers. I think it's ahead of the curve.
Best tip for home cooks. Don't be afraid or intimidated.
Favorite after-work hangout. I have a junior and a senior [in high school] at home. Once they go off to college, it may be different, but I go straight home and start that job.
Favorite kitchen tool. A microplane. Using a cheese grater just pales in comparison. What's next for you? Growing the business, which can go one of two ways. I can either go with a café or expand the manufacturing side through farmers' markets. Everywhere you see [café owners] struggling, and why would you do that if you can't make it pay?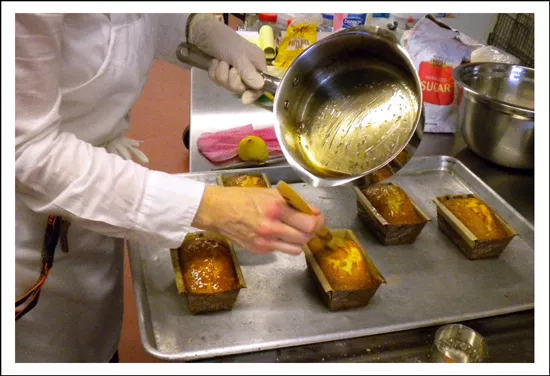 What inspires you? Seeing the London Tea Room succeed shows that there is an interest. Positive feedback always inspires me too.
Chefs who inspire you. I don't watch much cooking television. I can't cope with the adverts. I'll occasionally watch the Two Fat Ladies, but that's twenty years old. I put The Hairy Bikers on my Christmas list, but I didn't get it. I quite like watching Jamie Oliver's programs. I prefer the Cooking Channel to the Food Network: actual cooks talking about cooking versus food presenters. Rachael Ray? Ugh! And that semi-homemade lady? She dresses to match what she's cooking. It's all the wrong way round.
Favorite cookbooks? The one that's been with me from the beginning is the Good Housekeeping Cookbook. My grandparents gave it to me as a gift in the 1970s. It's got photos in the front with page numbers to turn to the recipes. All you have to do is flip through the first few pages. Even now it's my fallback for the basics. I got my grandmother's 1950's edition when she moved into a retirement home. I love it, love seeing how it's evolved, but I don't touch it often because it's falling apart.
Proudest professional moment? Every time I get a compliment. I've been on television three times, but it's really nice to have face-to-face contact.
Favorite music to have in the kitchen. Never. In the car I listen to NPR. If I was techno-savvy, I could program my iPod to NPR, but I rarely have music on, even at home.
What's on your pizza? Whatever the family consensus is. Right now it's one half ham and pineapple, because that's what my older daughter likes. The other half is supreme. My husband's favorite is chili powder and cheese. My own personal choice would be onions and black olives.
What's in your omelet? Mushrooms, onions and cheddar.
What are you drinking? Hot tea. Six cups a day.
What's the most surprising food you've eaten? Baked beans with extra things added and served with burgers. Brits have baked beans for breakfast with eggs. To have them with burgers was a shock. Why do you add all that sugar and extra bacon and such?
What's the most difficult lesson you've learned in this business? Just being in business itself. As soon as you get over one hurdle, another one presents itself. I've given up thinking, "As soon as we get this settled, then we'll be there."
When did you know the chef's life was for you? It just seemed like the natural thing to do. I've always enjoyed the cooking and the entertaining. Well, not the entertaining, but the providing.