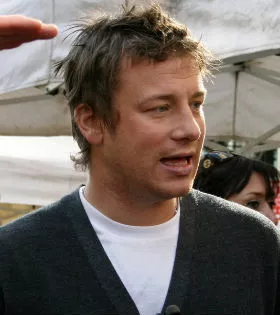 Wikimedia Commons
This is not a chef.
British chef/author/eccentric character/host of the U.K.'s "Kitchen Nightmares" Marco Pierre White skewered the U.K.'s culinary sweetheart, Jamie Oliver, by telling the Daily Star that Oliver's not a real chef:
I don't look at Jamie as a chef. He's never won a Michelin star. Because of that, he's not really accepted by the professional chef world. Yes, he inspires a lot of people to cook, but he doesn't fall under that category of great chefs.
Oh yeah, Marco? Well, Jamie has his own line of cheeses. So there.
That's right. The cheeky Brit's slapped his face on packages of cheese from Italy as part of his ever-expanding line of pre-packaged foods, restaurants, books, and television shows.
Surely that makes a chef, right?
The launch of Oliver's cheese coincides with the news that White's creating a beer with JW Lees Brewery.
The beer? It's a bitter.