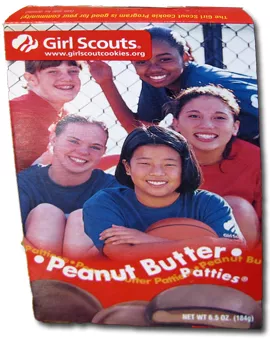 Why are these girls so cheerful? Must be the partially hydrogenated palm kernel, and/or cottonseed oils.
Gut Check is sick and tired of people gushing about their love of Girl Scout Cookies.
We're no hectoring health-food nutjob. We eat (and drink) our share of crap that's no good for us. But by God, these Girl Scout Cookies, which you're practically held at gunpoint and forced to buy (in multiple quantities, from multiple Girl Scouts, no less) -- they're dreadful!
Today's featured Girl Scout Cookie: Peanut Butter Patties. They used to be called Tagalongs, and still are in some areas. Same shit, different bakery.
Update! Now showing at a food blog near you...Episode 2: Caramel deLites, a.k.a. Samoas
Ready? Here comes a screenshot of the label:
You know how ingredients lists work, right? They go in descending order, meaning the first ingredient on the list is the most prevalent in whatever it is you're eating.
So here we have a food that's made up mostly of...sugar. Then comes flour -- enriched flour, which is meant to make it sound good for you but it's not good for you; it's just shot full of stuff other than flour. Peanuts. (Fine. Gut Check has no beef with peanuts. Nice to see them, though eating one of these cookies it's hard to imagine a peanut came within a mile of it.) Vegetable shortening. You know, Crisco. You call it shortening. Gut Check calls it fat. If we're going to eat fat, we'd rather eat it in any form besides Crisco. Maybe that's just us. Maybe you like to eat Crisco.
By now we're down to the part where it says "contains less than 2% of." Hardly worth mentioning, aside from observing that 1) none of it looks very appetizing and 2) these cookies, which the Girl Scouts describe as "round cookies with a layer of peanut butter on top, and covered in chocolate," have barely anything in them that qualifies as chocolate.
That they offer absolutely nothing, nutritionally speaking, well, hell, that's pretty much par for the course with a lot of crap we eat. A nation of fast-food fatties and all that.
But these are Girl Scout Cookies, for the love of Pete! They're marketed to cute little kids to sell to other cute little kids!
And note the "Serving Size 2 cookies" -- yeah, right. You think a kid's gonna eat two of these and call it a day? Ha!
It's wicked, wicked is what it is. Makes us want to puke.
If you haven't already, see Episode 2: Caramel deLites (a.k.a. Samoas)
Note: If you'd like to suggest which Girl Scout Cookie Gut Check vomits up next, by all means use the comments thread. We're here to hurl.