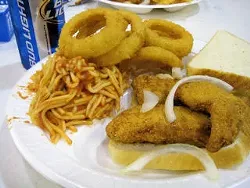 Robin Wheeler
Yummy Lenten eats at St. Henry's Fish Fry
This week Gut Check paid visits to the Wicked Lay Pub, Señoritas Pique, Rosalita's Cantina and Tee's Golf Grill and we celebrated the foods of Shrove Tuesday and Ash Wednesday.
What else did we do this week?
Robin explored the 30 year evolution of the "fruit bra."

Katie called out five edible abominations in "Top 5 Fast Food Frankensteins."

Lady Gaga sued breast-milk ice cream makers who used the name "Baby Gaga" for their product.

Ian introduced us to Foodies, a new satirical web series that mocks, well, foodies.

We learned what life is like for Mrs. Gut Check.
That's it for this week. Have a great weekend. Eat something good.