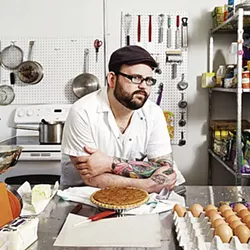 Jennifer Silverberg
Mathew Rice, formerly of Niche and Pi, now of Nightwood in Chicago
Fans of
Mathew Rice
(which includes Gut Check and not just because he made our wedding cake) were bummed when the former
Niche
and
Pi
pastry chef took his talents to the shores of Lake Michigan earlier this year -- especially because he moved there without a new job lined up.
The bad news: Rice isn't coming back to St. Louis. The good news: his desserts are available once again, albeit a few hours' drive away.
Rice announced via Twitter yesterday that he has been hired as the pastry chef at the Chicago restaurant
Nightwood
.
Rice tells
Time Out Chicago
that one of the desserts that helped land him the gig was "a strawberry-rhubarb buckle with a strawberry ripple ice cream," which is one more reason a) to sigh with regret that Rice has left our town and b) plan a trip to the Windy City.