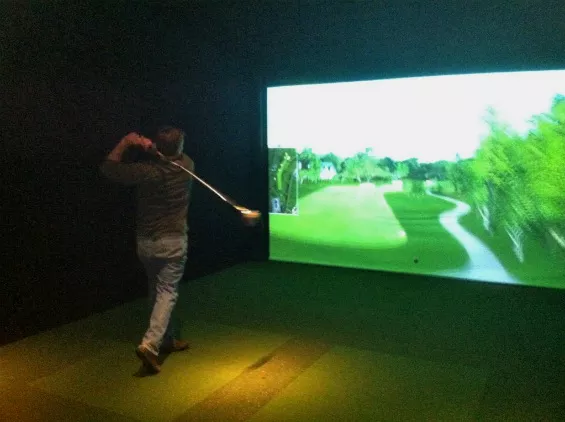 courtesy Tee's Golf Grill
Golden Tee's explosive popularity brought with it the omnipresent thunk of palms beating the living hell out of trackballs ever since it clamored onto the bar scene two decades ago. Tee's Golf Grill (103 Chesterfield Valley Drive, Chesterfield; 636-489-2848), with its ten PGA Tour simulators, has replaced the plebeian thunk with the highfalutin tink of actual golf clubs beating the living hell out of real golf balls.
Tee's foyer looks like a cross between a hotel lobby and a pro shop, complete with neatly folded shirts, golf gloves, hats and bottled water -- all for purchase. Inside, the airy dining room is flanked on opposite sides by five ginormous PGA Tour simulator setups, where an up-sloping stretch of fake-grass "fairway" gives way to a giant projection screen.
Tee's didn't spare any expense here: These monsters are made by aboutGolf (the brand favored by the Golf Channel), and one employee quoted them at $8,000 a pop a manager writes to tell us they run $65,000 apiece. Patrons can rent the simulators for $25 to $40 per hour, depending on the day of the week, and an additional $6 to $10 for each additional quarter hour, again, depending on whether it's a weekday or weekend. (A decent golfer can get through eighteen holes in about an hour.) One can pick from courses aplenty; the most popular ones since Tee opened two weeks ago are Pebble Beach, St Andrews and Harbour Town. Most players bring in their own clubs, but Tee's will rent you a set for $5.
With a restaurant so thematically focused, it's not surprising to see the menu follow suit.
Kristie McClanahan
You get T-ravs, but you have to ask for "Tee's Ravs."
Tee's golf puns border on overkill, sometimes to the point of confusion. Mixed drinks are "water hazards" and a "stroke" is a shot, though in neither case is the translation supplied. After a while you start seeing puns even when they aren't there: Chips! Club soda! Har! At any rate, we can report that "The Golfer" water hazard is a pleasantly tart mix of Hound Dog sweet tea vodka and lemonade ($8). Though if the punsters who penned the menu really had it going on, they'dve named it the "Arnold Bomber."
Appetizers are fairly straightforward. On the recommendation of the bartender, we went with the toasted ravioli (Tee's ravs!), which revealed itself to be a half-dozen deep-fried ovals. When asked what the filling was, the bartender called it "liquid meat sauce," which is as good -- if not wholly appetizing -- a descriptor as any. The breading and marinara were above average, the "liquid meat sauce" innards, below.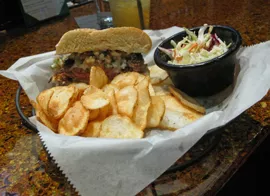 Kristie McClanahan
Tee's lamb burger, otherwise known as "Phyl."
That said, Tee's menu offers some pleasant surprises. Burgers, listed under the heading "Sandwedges" (no, we're not making that up), include salmon, turkey and lamb as well as the requisite ground chuck. The lamburger, dubbed the Phyl (after an owner, Phil Harris, who's Greek), was cooked to the requested medium and topped with a "Greek salad" and tzatziki, but it was the expertly applied char that sealed the deal here. Homemade chips (tasty!) or fries are extra ($2), and Tee's charges a split-plate fee ($1.50) -- which, when you're forking out $12 for an à la carte burger, seems a little stingy.
There were also some whiffs on the service: During our visit the employee-to-customer ratio hovered right around seven to one, which made it all the more of a letdown that our appetizer plates weren't cleared till after we'd finished our entrée -- especially considering that a gaggle of staffers were huddled around one of the games.
The simulators are undeniably intriguing, and they make for a pretty -- if only virtual -- backdrop, as golf balls sail over video treetops and past 2-D snowcapped mountains.
Signing up for Tee's e-mail list allows subscribers to reserve tee times, and it's not hard to see the place as a destination for an office outing. The restaurant's Facebook page mentions long-drive and closest-to-the-pin contests and, by all accounts, business is brisk. As the happy-hour crowd started to trickle in, first-time visitors seemed impressed and inclined to take some swings. As we settled our check, we overheard the following from a cell-phone chatter a few barstools down:
"I'm stuck at the office. I'll be here till at least seven."
Fore!
Hours: 10 a.m.-11 p.m. Sun.-Wed., 10 a.m.-1 a.m. Thu.-Sat.