Torta and taco lovers of St. Louis: The good people who work at
La Monarca
(8531 Olive Boulevard, University City; 314-814-5864) aresick and tired of having to replace their pens because you keep "accidentally" wandering off with them. In fact, they are so sick and tired of "losing" their pens, they are now offering you an incentive not to "misplace" them after signing your check.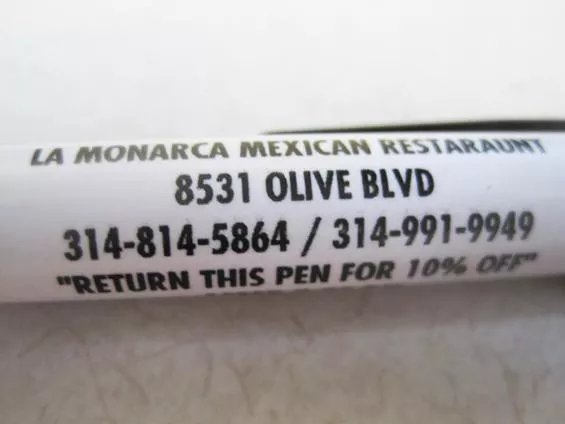 Important note: The complete text of the offer, only part of which is visible in the photo above, reads, "Return this pen for 10% off after 2:00 p.m."
Got that, cheapskate pen thieves?
After 2:00 p.m. only.
"But wait!" you say. "How do I know this isn't a trick to catch those of us who 'accidentally' left La Monarca while holding one of the restaurant's pens?"
You don't, my friend. You don't.