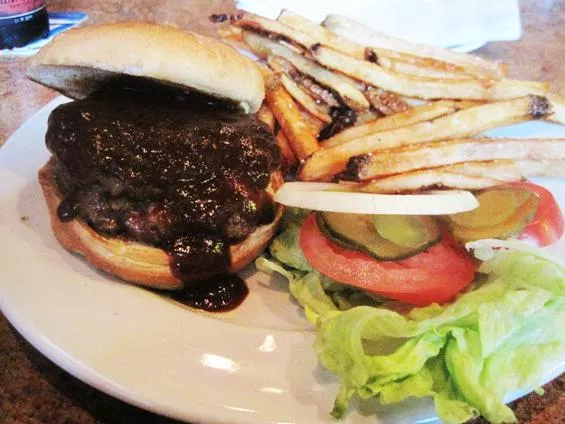 Ian Froeb
The "Wicked Burger" at the Wicked Lady Pub
I was already planning to visit the
Wicked Lady Pub
(4534 Gravios Avenue; 314-448-1978)
to order the "Wicked Burger" when I saw that Katie Moulton had taken a bullet for Gut Check and sampled
the new "Jalapeño & Cheddar BK Stuffed Steakhouse" burger from Burger King
. Katie found that this burger wasn't really stuffed. Hell, it was barely a burger. It was, in her words, "a slab of processed meatloaf."
You want an actual burger actually stuffed Juicy Lucy-style with cheese and jalapeño, Katie? The Wicked Lady Pub has it. As an added bonus, it's a pretty damn tasty burger, too.
The "Wicked Burger" brings ground beef loosely packed around a center of molten pepperjack cheese and chopped mushroom and jalapeño. You'll have to take my word on this. The photo I snapped of the burger's interior was, even by my admittedly low standards, awful.
The cheese and jalapeño provide a decent amount of heat, but the real punch -- both in spice and flavor -- comes from the restaurant's housemade "Wicked" barbecue sauce. As dark and nearly as thick as molasses, the sauce has a fleeting sweetness that gives way to a peppery kick and a rich, almost chocolaty core somewhat reminiscent of a traditional Mexican mole.
Now, at $8, the "Wicked Burger"
is
twice as expensive as Burger King's "stuffed" "burger," but this seems a fair price to pay for a burger that is, in fact, stuffed. Plus, the $8 includes a side of the freshly cut French fries, crisp and salty and perfect for dipping in the "Wicked Sauce" that will inevitably spill off your burger.