Given that Saturday's Mardi Gras celebration is the proverbial bad-taste storm before the calm, it's only fitting that the big party's signature drink is sweet, lethal and named after an actual storm. That's right: the Hurricane.
If you're in the mood for something different this weekend, Gut Check presents the Top 10 Natural Disaster Cocktails -- guaranteed to rock your world!
10. Hurricane Katrina Your dams of sobriety are no match for this bitch.
1/2 oz. banana liqueur 1/2 oz Galliano liqueur 2 oz. grapefruit juice 2 oz. orange juice 1-1/2 oz. rum (such as Bacardi 151)
Combine ingredients and shake well. Serve in tall glass. (www.travelnola.com)
Drink that and click through for more recipes.
9. Earthquake (Tremblement de Terre)
Is it the New Madrid fault causing the ground to shift under your feet -- or is it this absinthe cocktail purportedly invented by
Toulouse-Lautrec
? We motion to redub this modern take the
"Boobquake"
in honor of, you know, feminism.
1 oz. absinthe 1 oz. gin 1 oz. bourbon
Fill a collins glass about one-quarter full with ice. Add absinthe, then gin, then bourbon. Stir with a straw -- or shake, if preferred -- and serve. (drinksmixer.com)
8. Mississippi Mudslide A tribute to the our beloved river and its current state of winter sludge.
1 oz. vodka 1 oz. Kahlúa coffee liqueur 1 oz. Baileys Irish Cream 1 oz. heavy cream
Shake all ingredients with ice and pour over ice in an old-fashioned glass. (drinksmixer.com)
7. Tsunami A hurricane with international flavor!
1 oz. Captain Morgan Original spiced rum 1/2 oz. Malibu coconut rum 1/2 oz. Myers's dark rum pineapple juice 1/2 oz. grenadine syrup
Fill highball glass with ice. Add Captain Morgan and Malibu. Fill with the pineapple juice. Float grenadine and then add Myers's for color. (supercocktails.com)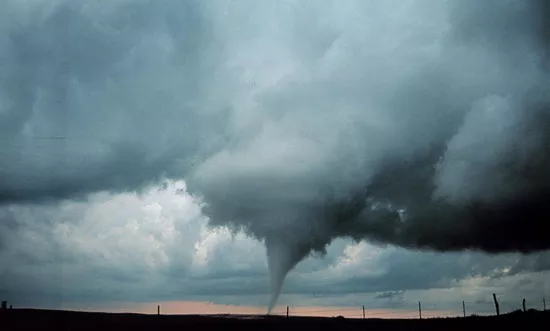 6. Cyclone Talk about a downward spiral. For the Mardi Gras season, we redub this vodka-based concoction the "Titty Twister"!
1 oz Absolut Citron vodka 1-1/2 oz. grapefruit juice 1/2 oz Grand Marnier 2/3 oz. cranberry juice 2-1/3 oz. lemonade
Combine Absolut Citron, grapefruit juice and Grand Marnier in a shaker with ice. Shake well, pour into highball glass. Add lemonade, float cranberry juice on top and serve. (supercocktails.com)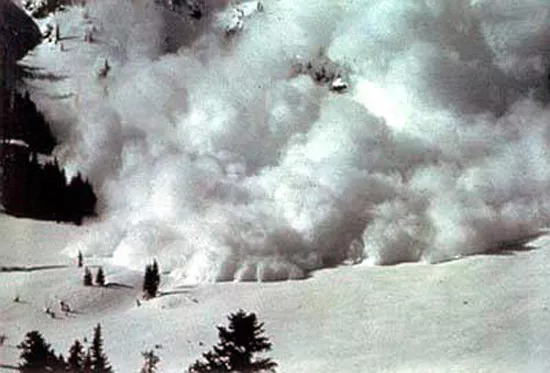 5. Avalanche The Blues sent Erik Johnson to Colorado. Here's our chance to bury the Avalanche deep in our gullets.
2 cups ice 1 cup vanilla ice cream 2 oz. Irish cream liqueur, such as Baileys 2 oz. white crème de cacao 2 oz. vodka
Combine ingredients in a blender. Cover and pulse until the mixture begins to swirl evenly. Blend on high for twenty seconds or until drink is completely smooth. (easycocktailrecipes.com)
4. Blizzard When the recipe comes from ice queen Martha Stewart herself, you know it's a very good thing.
1-1/2 oz. Irish whiskey or rum 1/3 oz. hazelnut liqueur, such as Frangelico 1/2 oz. Irish cream liqueur (such as Baileys) Hot coffee Dollop of Grand Marnier Whipped Cream
In a glass coffee mug, stir together whiskey, hazelnut liqueur and Irish cream; top with coffee. Garnish cocktail with whipped cream and serve immediately. (marthastewart.com)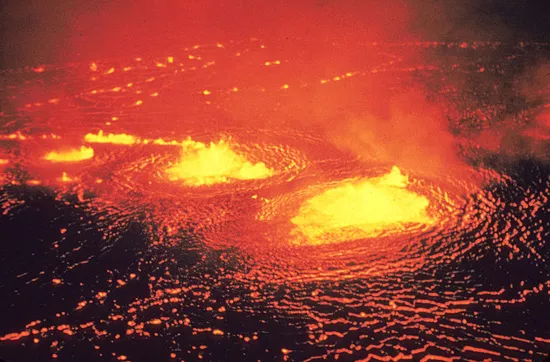 3. Flaming Volcano A challenging cocktail to attempt -- especially if you already have one foot in the lava flow. But think of the countless parties you will light up with the story of how you lost your eyebrows.
1 oz. light rum 1 oz. brandy 1 oz. overproof rum (e.g., Bacardi 151) 4 oz. orange juice 2 oz. lemon juice (unsweetened) 2 oz. almond-flavored syrup
Combine all ingredients with two scoops of crushed ice in a blender, blend briefly, then pour into the "volcano bowl." Pour some rum into the central crater of the volcano bowl and light it. For garnish score pineapple or orange slices with a knife and insert onto rim of bowl. (wikipedia.org)
2. Four Horsemen of the Apocalypse It's the end of the world as we know it, and you'll feel fine.
1/2 oz. Johnnie Walker Black Label Scotch whisky 1/2 oz. Jose Cuervo Especial Gold tequila 1/2 oz. Jack Daniel's Old No. 7 Tennessee whiskey 1/2 oz. Jim Beam bourbon whiskey 1/2 oz. Jägermeister herbal liqueur 1 oz. pineapple juice 2 oz . sweet-&-sour mix
Pour all liqueurs into a cocktail shaker half-filled with ice. Shake until frosted. Strain into highball glass and add pineapple juice and sweet & sour mix. Stir and serve.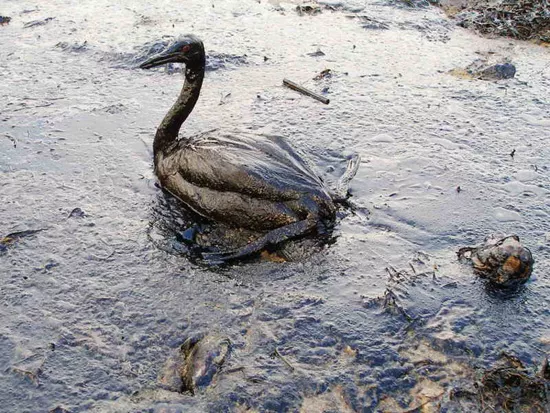 1. Gulf Spill Too soon? Too late!
1.5 oz blueberry juice 0.5 oz Kahlúa 0.5 oz Godiva chocolate liqueur 3 blueberries Sand-colored sugar, such as raw or demerara Optional: Bar spoon chocolate sauce
Rim martini glass with sugar that will symbolize sand. Combine all ingredients in a shaker with ice. Shake well and strain into glass. Float blueberries on top to symbolize dead sea creatures. (liquorsnob.com)