Kristen Klempert
Home of the ice cream martini? Gut Check'll try anything once!
The Joint: The Fountain on Locust 3037 Locust Street; 314-535-7800
The Hours: Tue.-Sun. 4-6 p.m.
The Deal: $2 domestic bottles, $6 ice cream martinis
Drinking your dessert? Gut Check has a word for that. We call it multitasking...
The Scene: The retro romantic vibe catches your eye from the get-go. The walls are covered in murals with a dramatic vintage feel, chic lighting fixtures abound and each booth is equipped with a subtly provocative "privacy curtain." Then there's the small sign behind the soda counter that reads, simply "We Serve Cocktails."
At an ice cream parlor.
Fact of the matter is, the ice cream here is all kinds of icy and creamy and delicious, but you haven't truly tasted it till you've tasted it in one of Fountain on Locust's plethora of ice cream martinis, from classic tastes like chocolate-covered cherry to concoctions like the Love Potion #9 (Frangelico, Chambord and vanilla ice cream -- it tastes like a PB&J that's died and gone to Heaven). Even if you're the type who says "I like to drink my dessert" and means it, don't dismiss a trip to the Fountain out of hand. The booths, the quirky décor, the ice cream -- think of it when you're considering options for where to go on a first date. And while they aren't given the Happy Hour discount treatment, the bar also offers a perfectly reasonable list of retro cocktails, so you can pass the time with a sloe gin fizz or a side car.
In fact, this setup would be perfect, if only they offered reduced prices on menu items.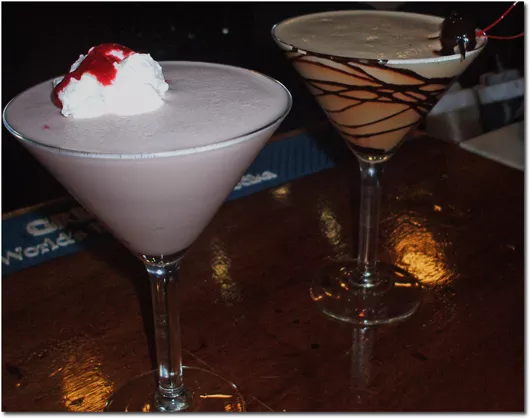 Kristen Klempert
The Love Potion #9 and and the Chocolate Covered Cherry.
Why You'll Go Back: You like ice cream martinis or know someone who does.
The Verdict: Its bathroom has garnered national attention, but Fountain on Locust's Happy Hour remains one of the city's best-kept secrets.