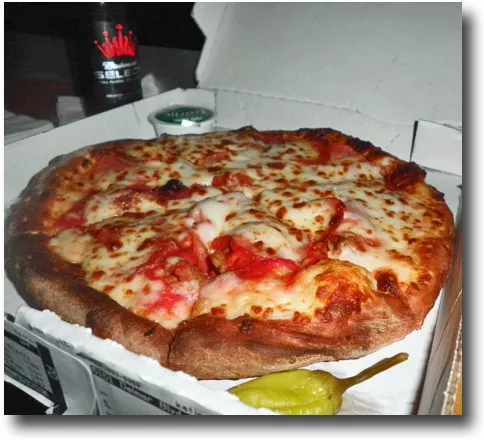 Has Papa John's created the Jersey Shore of pizzas? The chain's limited-edition Hearty Italian Meats pizza is meaty, cheesy, over the top, hard to talk about without snickering and ultimately, not in good taste -- in other words, a bit of a "Situation."
Is it possible to order this pizza with a straight face? Papa John's phone-in apparatus tries to pre-empt the question by playing "music" in the form of recorded advertisements and requiring order takers to greet customers by pushing the Hearty Italian Meats...hard.
When Gut Check asked what differentiates this new pizza from, say, Papa John's regular "All the Meats" pizza, our interlocutor -- Gut Check likes to imagine it was Papa J himself -- insisted, "It's not just regular meats -- it's Italian!" and then chastised: "Don't question it -- it's g-o-o-o-d."
Which is exactly what we imagine Pauly D will say when he hits on us for the first time. Sold, sir!
For $11 you get a, ahem, "small" ten-incher purportedly "piled high with Spicy Italian sausage, Italian salami, Italian ham [and] pepperoni" and covered in a blend of mozzarella, provolone, fontina and Asiago cheeses. At first glance the pizza appears to be an innocuous national-chain pie smothered in white cheese with no meat in sight.
The first bite of one's Hearty Italian Meats, however, yields a thick layer of assorted carnage lurking just beneath the surface: half-dollar-size ham and pepperoni, lunchmeat-size slices of salami.
It's a Sausage Fest! But does it make for a good pizza?
Not really. This deli-counter-on-a-crust ultimately collapses, flavorwise, under its own weight. Sure, you've got your meat, meat, meat and your cheese, cheese, cheese, but Papa J has failed to balance all that with sufficient herbs and spices. The cheese topping makes matters even worse, forming a bland seal that deadens any flavors that try to push their way up from underneath.
Which brings us to Gut Check's Twitter-ready verdict:
Papa John's Hearty Italian Meats is the pizza equivalent of "Hide the Salami" -- and it comes up short!