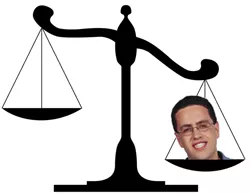 Saturday night a tractor-trailer hit a pylon on Interstate 44 in Springfield, dumping 40,000 pounds of mayonnaise onto the road. Eastbound lanes were closed for several hours to clean up the mess. Lt. Scott Leven of the Springfield Police Department compared walking on the spilled mayo to walking on ice.
Luckily, there were fewer injuries in the mayo mess than there are in a typical Missouri ice storm. No one was hurt.
The mayonnaise was headed for Subway, so in order to understand just how much mayo that is, we're going to put it in Subway terms.
Ninety-four Jareds.... That is a whole heckuva lot of five, five-dollar, five-dollar foot-longs!
Subway spokesman Jared Fogle lost 245 pounds by eating a steady diet of Subway sandwiches. Without mayo, of course. Mayo, despite being purchased in twenty-ton loads, is not a part of the Subway diet.
When Jared started his diet, he weighed 425 pounds. How many pre-Subway Jareds would it take to equal the load of mayo dumped in Springfield?
That's 94 Jareds. Give or take fifty $5 Footlongs.