Gut Check's Week in Tweets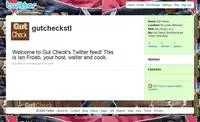 Don't you know? Gut Check has a Twitter account. You can follow us @gutcheckstl. Here's some of what you missed on the Twitter feed this week:
RT @stlmag_relish: Riverside Cafe Closes Due to Family Illness: http://bit.ly/gVVYfw // sad news. best wishes to the Frieds.
Great day for strange/awesome comments on the blog. Latest compares spilled Chocovine to Ol' Dirty Bastard lyrics.
In France, you can get a baguette from a vending machine: http://bit.ly/fPe8Oi
RT @punchingkitty: The Park Hills Subway Wasn't the Most Friendly Place to Be Saturday http://bit.ly/gi3q2d
Battle of the Chunky Soups: Past Meets Present http://bit.ly/gYrAKa
Support Local Journalism.
Join the Riverfront Times Press Club

Local journalism is information. Information is power. And we believe everyone deserves access to accurate independent coverage of their community and state. Our readers helped us continue this coverage in 2020, and we are so grateful for the support.

Help us keep this coverage going in 2021. Whether it's a one-time acknowledgement of this article or an ongoing membership pledge, your support goes to local-based reporting from our small but mighty team.

Join the Riverfront Times Club for as little as $5 a month.
Euclid Media Group, LLC
Read Our Sister Publications